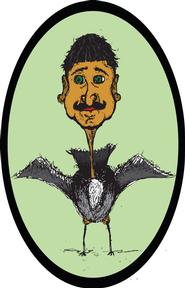 From hobbyists to full-time manufacturers – that's the trajectory that the founders of Birdman Bats, a maker of top-quality, all-birch, baseball bats, hope to follow. Creative writing major Nick Geisler '14 helped co-found the San Francisco-based company and manages most of the finances and bookkeeping. He is excited as the organization embarks on a fundraising campaign to buy the equipment necessary to become a full-scale manufacturer with the purchase of an automatic lathe.
The company was started five years ago by Gary Malec, who designs most of the bats and grinds models. The Major League-quality baseball bats produced by the company have been sold to former MLB outfielder Manny Ramirez and professional baseball player Lars Anderson.
According to Birdman Bats, "Birch has the hardness of maple with the flexibility of ash. And it is both lightweight and durable. Since its introduction to professional baseball in 2006, birch has been continuously rising in popularity among pro ball players." Aside from a new lathe, Birdman Bats hopes to raise extra money to pay for the Major League Baseball licensing fee, in order to bring their bat business into the MLB.
In addition to majoring in creative writing at Hamilton, Geisler was involved in video production, a skill he currently uses in creating videos for Birdman Bats. He also directed a Hamilton College feature length movie House Divided in 2014, which was chosen to be shown in the Hoboken International Film Festival.