Beck and Jones Publish Two New Book Chapters
---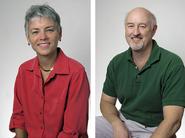 Professor of Archaeology Charlotte Beck and Professor of Anthropology Tom Jones have published chapters in two new books from the University of Utah Press.
"The Role of Mobility and Exchange in the Conveyance of Toolstone During the Great Basin Paleoarchaic" appears in Perspectives on Prehistoric Trade and Exchange in California and the Great Basin. In it, Beck and Jones explore the economic and social mechanisms by which foraging peoples acquire raw materials to make stone tools. Insights from these analyses, in turn, inform on the nature of adaptation and social interaction of the earliest human populations of the central Great Basin.
"The Clovis-Last Hypothesis," published in Meeting at the Margins: Prehistoric Cultural Interaction in the Intermountain West, reviews the long-standing hypothesis that the first people to enter the western desert regions of the U.S. some 12,500 years ago were part of a colonizing group known to archaeologists as the Clovis people. Although Clovis stone tool technology is represented in a few Great Basin sites, its age is not securely established. Dates from archaeological sites where a different technology is represented may be every bit as old as Clovis. The paper considers whether the latter technology may have evolved from the Clovis technology or if it is derived from a different human population, which perhaps originated along the Pacific coast.