Bedient, Gibbons Perform at Math Meetings
---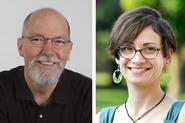 Professor of Mathematics Dick Bedient and Assistant Professor of Mathematics Courtney Gibbons performed with the Mobiusbandaid Players during the joint meetings of the American Mathematics Society and the Mathematics Association of America in Baltimore.
Their performance was in a session called Mathematically Bent Theater in which the players formed a mathematical comedy troupe and performed material written and directed by Colin Adams, a professor of mathematics at Williams College.
In one theatrical piece, Bedient and Gibbons faced off as Hugo C. Wolfe, an arrogant mathematician with an ax to grind, and Helen T. Boar, a precocious pig with an airtight proof.
Bedient has been a longtime player with the troupe, while this marked Gibbons' debut. The event drew a standing-room only audience of hundreds.