Bernadette McDonald Shares Stories of Himalayan Mountain Climbers
---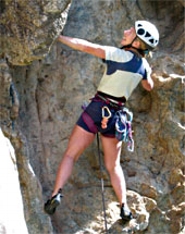 Bernadette McDonald visited Hamilton on Nov. 9 to discuss her experiences with some of the most outstanding Himalayan mountain climbers of the 20th century as she chronicled their lives in biographies. Her writing has taken her all over the world, driving her to ask personal questions, delve into complex characters, and develop countless friendships. Along the way, she dealt with difficult, "grumpy" personalities, faced exhausting climbs, read hundreds of letters and diary entries, and even learned to overcome personal fears.
Prior to becoming a writer, McDonald worked for 19 years at the Banff Festival. The first book she had a role in was Voices from the Summit, a series of essays by famous climbers including Reinhold Messner, Sir Chris Bonington, and Sir Edmund Hillary. While this project went along smoothly due to hard work and strict adherence to deadlines, the second book McDonald edited was more challenging. As the compilation of essays from more mountaineers was nearing completion, National Geographic, which published the book, took issue with some of the stronger statements in the essay by Terry Tempest Williams. Williams, the founder of the outdoor company Patagonia and a famous climber, wrote the essay "Lessons from the Edge," which McDonald tried to persuade him to edit. However, Williams refused repeatedly, and ultimately, the book, Extreme Landscapes, went to print with the original text.
After another compilation of essays with National Geographic, McDonald went on to writing biographies. "I read and he wept," says McDonald of one of her most touching interviews with famous mountaineer Charles Houston. The interview took place as part of McDonald's research for her 2007 biography of Houston, Brotherhood of the Rope. The book was being written in Houston's old age, when his poor eyesight prevented him from reading independently. Instead, he asked McDonald to read highly personal annual summaries, a diary of sorts, that he kept throughout his life. As McDonald read the firsthand accounts of his travels and inner-turmoil, she not only gained information for her book, but valuable experience about relationships.
Houston, one of the great American mountain climbers of the Himalayas, was at first very open to dictating his stories. As he sat with McDonald in his Vermont house, he would frequently guide her toward relevant texts and photographs. There were a few boxes of files, however, that he occasionally asked McDonald to move across a room without looking inside. When she asked about these boxes, Houston explained that they were private summaries that he wrote over the years, and that she could not read them. However, later McDonald had gained enough of Houston's trust that he let her not only read the summaries to him, but use them for her book.
McDonald has often had to obtain personal information such as this slowly and carefully. Her first biography told the story of Elizabeth Hawley, who herself chronicles the stories of Himalayan expeditions. In the climbing world, Hawley is famous for her irritable temperament and desire for privacy. Naturally, McDonald was nervous about taking on this project. Luckily, she acquired hundreds of letters from Hawley to her mother, which aided her research.
Based on the letters she was able to divide her questions for Hawley into three categories: factual "green" questions, opinion-based "yellow" questions, and finally highly-personal "red" questions. On the last day of her interviews, McDonald asked the final "red" question, one that she had been avoiding, regarding an alleged affair with climber Edmund Hillary. Despite Hawley's reputation as a very private person, she answered.
McDonald's third biography was of a younger climber from Slovenia, Tomaz Humar, then in his 30s. The interview process went on during a very troubled period in Humar's life. He was going through a torrid divorce and recently had to be rescued from a traumatizing climbing attempt during a storm. What surprised McDonald most about Humar's character was the multiple sides that he exhibited. On one hand, he was a "hotshot" in the mountain-climbing world, and "the ultimate party animal" who loved media attention and publicity. On the other, he was deeply spiritual and startlingly intelligent. McDonald found that she got the best results from her interviews when she actually accompanied Humar on his work and went climbing with him. Despite the challenging pace he set, Humar was always most willing to share his stories while climbing. However, at no point would he discuss the subject of his rescue, which he described as the worst experience of his life. He only opened up about this experience several days before the book was due, causing McDonald to scramble to rewrite sections to include his personal input.
Reflecting on the courage of the climbers she has encountered and their ability to take on risk, McDonald relates that she has learned "to not be quite as afraid" to take risks in her own life. Currently, she is working on the story of a group of Polish climbers who, over the time period of 1975-1995, defied the oppressive Soviet system they lived in and found a way to leave the country to climb Asian mountains. The book is due out next August. McDonald's work reaches beyond the scope of extreme climbing conditions and into the lives and characters of the people she addresses. Ultimately, they are some of the most complex personalities she had ever encountered, and her work exhibits their experiences in vivid detail and with the same passion climbers have toward a mountain.