Bicentennial Alumni Colleges Educate and Entertain
---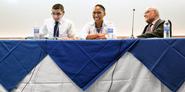 A popular aspect of Hamilton's annual reunions are Alumni Colleges, short seminars led by alumni or faculty in which they go in-depth on an area of expertise. This year's was no exception, with alumni discussing everything from How '07 Survived the Great Recession, and the Haitian Clubfoot Project, to Hamilton in the Civil War, and Hamilton Athletics Then and Now.
Following are capsule descriptions of a few that took place at the All-Alumni Bicentennial Reunion May 31-June 3.
The Arab Spring and the Victory of Islamic Politics
By John Wulf '12
On Friday afternoon in the Kirner-Johnson Red Pit, Edward Walker '62, the former U.S. Ambassador to the United Arab Emirates, Egypt and Israel, and the current Christian A. Johnson Distinguished Professor of Global Political Theory, enlightened fellow alumni about the crises in the Middle East. In a talk titled "The Arab Spring and the Victory of Islamic Politics" Walker lectured on the perilous nature of democracies in the Islamic world, and the delicate dilemmas facing the United States.
Walker began his talk by explaining how Egypt has yet to coalesce in the wake of its revolution. Additionally, as the country nears a presidential election, the two major parties appear fundamentally different, yet equally incapable of satisfying the needs of the Egyptian people. Ultimately, Walker concluded, "What's happening in Egypt is a vivid reflection of the political trauma that's gripping the region as it's trying to thread its way between secularism and religion, and between democracy and autocracy."
Walker also discussed such countries as Tunisia, Morocco and Jordan. In each of these examples, he described how autocrats and religious ideologues threaten the long-term prosperity of democracy.
For Walker's last subject, he focused on the salient situation in Syria. Although he explained that it was in the best interest of the United States to push President al-Assad out of power, he recognized that there are no easy solutions. From a Syrian perspective, President al-Assad presides over a strong air force, which makes military intervention more dangerous than it was in Egypt. Complicating matters even further, Russia and China have expressed their support for al-Assad, which makes U.N. sanctions unlikely. As Walker sees it, the situation has only just begun.
Ambassador Walker fears that Syria has the potential to serve as a "proxy conflict," pitting some of the world's biggest powers against one another. And although Walker admits that there is no panacea, he fears "the casual suggestion of military force that is embraced so easily by some of our politicians." Ultimately, he argued America must proceed with caution.
Despite the stern warnings of Walker, he finished his talk on an optimistic note. Referencing the genesis of American democracy, he stated, "Revolutions are often messy and bloody, but there's always hope that they will lead to peaceful and democratic resolutions." In conclusion, the Arab Spring, which has "mutated" into the Islamic Summer, remains unsettled and its true effects will not be understood for many years to come.
After his talk, Walker took questions on a variety of topics from a spirited and engaged audience. Fresh off a busy semester teaching "International Decision-Making" and "Israeli Internal Politics and U.S. Policy," Walker handled the questions with the same level of expertise that Hamilton students have come to expect from the distinguished professor.
A Life in Politics
by John Wulf '12
On Saturday afternoon, Hamilton alumni filled the Chapel to hear from Tom '72 P '00 and Christie Vilsack K'72 P'00. Delivered like a town-hall meeting that befitted their political backgrounds, the Vilsacks shared stories and answered questions as they enchanted the audience for more than an hour.
President Joan Hinde Stewart kicked off the event by introducing the pair of political leaders. Tom Vilsack is the current U.S. Secretary of Agriculture and a former two-term governor of Iowa. Christie Vilsack is a former teacher and literacy advocate who is currently campaigning for Congress. "They are thoughtful and genuine public servants," said President Stewart, "who serve as a counterweight to everything that is wrong with modern-day politics." And with that, the Vilsacks took the stage.
Christie Vilsack discussed her campaign to become the U.S. Representative from Iowa's Fourth Congressional District. After some redistricting, the district now spans the northwest portion of the state, which consists mostly of small rural towns. Christie sees this is as a terrific opportunity.
"I'm a talker, a builder," she explained, "I like to create relationships and bring people together." These attributes, Christie believes, will help her connect with Iowans across the district.
Christie, a native of Mount Pleasant, Iowa, acknowledged that her road to the Capitol will not be easy. Her opponent, Republican Steve King, is a five-term representative. But the Kirkland alumnus is excited for the challenge. She's also excited to change history. No woman has ever been elected to Congress from the state of Iowa, and Christie plans to become the first. As Christie quipped, "If my husband who is from Pittsburgh can become the Secretary of Agriculture, anything is possible."
Throughout his portion of the talk, Tom Vilsack provided insight into the Department of Agriculture and entertained the audience with anecdotes about working for his boss, President Barack Obama. In one particular story, he explained the secretive procedure of not attending the State of the Union. As a precautionary measure, Secretary Vilsack was chosen as the emergency Commander-in-Chief and therefore kept in seclusion. "You know the undisclosed location?" he joked with the audience, "I've been there."
Vilsack also addressed the serious issues facing our country. He stressed the importance of finding solutions and avoiding partisanship because, as he stated, "polarization leads to paralyzation." Secretary Vilsack also explained the functions of the Department of Agriculture. The USDA is the fifth largest cabinet department and while some may not realize it, it plays a major role in the U.S. economy. The USDA not only oversees agricultural business, but it provides loans for homes and public service buildings such as libraries and fire stations. Vilsack also clarified the "misunderstood" nature of food stamps. As he explained, food stamps are not synonymous with welfare: 92 percent are given to support the elderly, the disabled or struggling working families. In addition, Vilsack explained that food stamps help the national economy by spurring families to buy the products produced by American farmers.
The Vilsacks finished by fielding questions from the audience. Topics ranged from water depletion, to genetically engineered crops, to the amount of money needed to fuel Christie's campaign.
The Young People's Project
by Patrick Bedard '14
Andrés Henriquez '83, chair of the Alumni Council Multicultural Alumni Relations Committee, introduced Dr. Robert Moses '56 and young alumni Leide Cabral '11 and Hector Acevedo '08 for a panel on The Young People's Project, an initiative that uses math literacy work to develop the abilities of students to allow them to succeed in school and in life.
Acevedo started the panel by describing the struggles he overcame throughout his education. Acevedo was given only six months to live by doctors in his birthplace of El Salvador, but 25 years later he is grateful for his health and for his life's many successes. Acevedo's mother sacrificed her chance for a career in psychology to move her family to Cambridge, Mass.
Once in the United States, Acevedo excelled academically despite cuts to his school's bilingual program, thanks in part to his participation in the Young People's Project. He expressed his thanks for the opportunities that led to his good education and said he hopes that programs like the Young Peoples Project will lead to opportunities for other underprivileged children.
Cabral was born in Cape Verde, an island off of the West Coast of Africa, and came to the U.S. after her father gave up the opportunity to attend school in Portugal on a scholarship and chose instead to move his family to Boston where he worked at an automotive factory. Cabral fell through the cracks in her middle school education, but thanks to the Citizen Schools program founded by Hamilton alumnus John Werner '98, she overcome educational obstacles and began to excel.
Cabral tested so well in charter school admissions exams that she was able to attend the Boston Latin Academy, one of the city's finest schools. She emphasized that her choice to "give more than was being asked within [her] school… expanded what [she] was thinking about learning," and she encouraged other students to do the same.
Moses is a prominent civil rights activist who received a master's degree in philosophy from Harvard and has received further honorary degrees from Hamilton, Haverford and Swarthmore. He founded the Algebra Project to encourage math skills in underachieving students and designed the program to encourage students to want to double up on math courses for all four years of high school.
In his talk, Moses recounted the education of African Americans and whites in the antebellum and post Civil War era leading up to the present day in order to illustrate that a strong education is essential for constitutional citizenship. Moses does not see America's education problems as an achievement gap because the term "achievement gap" implies a gap in test results as opposed to a gap in student results. Rather, he wishes to "raise the floor" by encouraging underachieving students to gain the will to achieve.
You Put What at the Curb!?
by Patrick Bedard '14
John Nye '87 has worked in the auction business for nearly his entire 25-year career. He graduated from Hamilton with a degree in art history, and initially worked at an architecture firm in Boston. After working for a year in architecture, he decided to pursue a career more in tune with his studies in art history, and took up an internship at Sotheby's. Fifteen years later, after reaching the position of senior vice president of the American Furniture and Decorations Department, Nye purchased a local auction house in Morristown, N.J. He has now moved his auction house to Bloomfield, N.J., where he works with his wife Kathy.
Nye's lecture, titled "You Put WHAT at the Curb? Mysteries of the Auction Business," examined the decline in antique collection as an aspiration for young professionals and the transition to the purchase of imported, mass produced pieces which emphasize appearance over quality and authenticity. He attributed this decline to a reduction in people's spare time for antique hunting, a decline in financial resources in American households, the use of interior decorators who focus on contemporary design, the decline in collection among upper level management which creates trends in younger professionals, and the focus on immediate and visual representation of success, such as luxury car leases. Nye is especially concerned that the increased trend in borrowing over the past half century decreases pride of ownership in homes and thus a decrease in the desire to decorate tastefully with expensive antiques.
Nye cited the Oriental rug as an example of this trend. Oriental rugs were once handmade, highly expensive centerpieces of decorating often displayed on tables. Now these pieces of art have been reduced to low quality, mass-produced department store purchases used to frame furniture. Nye referenced a further example where a rare marble-topped French table was purchased by a wealthy California family and subsequently sold to a pawn shop for a few thousand dollars when a new interior decorator was hired and wanted a "clean slate." Nye sold the table's twin for $900,000 some few years later.
The decreased trend in antique collection has not spelled death for the auction industry, but rather has required change. Nye noted that, thanks to shows such as Pawn Stars and Antiques Road Show, there has been a renewed interest in antique collection and an increased realization of the value of many items. He believes that websites such as eBay have increased people's comfort with the auction format of buying, with the downside being that traditional auctions have become nearly extinct. While he laments the death of the classic auction, Nye has seen the "writing on the wall" and moved the entirety of his auction business to the web, allowing buyers to examine and bid on items from anywhere with Internet access or cell phone data coverage.

Related Links

View photos on Facebook