Bicentennial Kickoff Weekend: A Gallery
---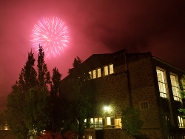 "Glorious."
"What an unforgettable weekend."
"An incredible gathering."
In this gallery, photos from the Bicentennial Kickoff Weekend attempt to convey all that words can't.
Three years in the planning, the Kickoff combined Fallcoming and Family Weekend. Some 3000 alumni, family members, students and members of the Hamilton community joined together on Sept. 22-25 to celebrate Hamilton' s rich 200-year history. This photo gallery shows some of the weekend's highlights: the Comstock Luncheon, dedication of the Taylor Science Center, performances, Bicentennial Colleges and tours, the Bicentennial Assembly, community picnic, NESCAC athletic contests and fireworks.

Photos here are by Nancy L. Ford and Laura C. Laurey.