Biology Group Studies Blood Sugar for Links to Obesity
---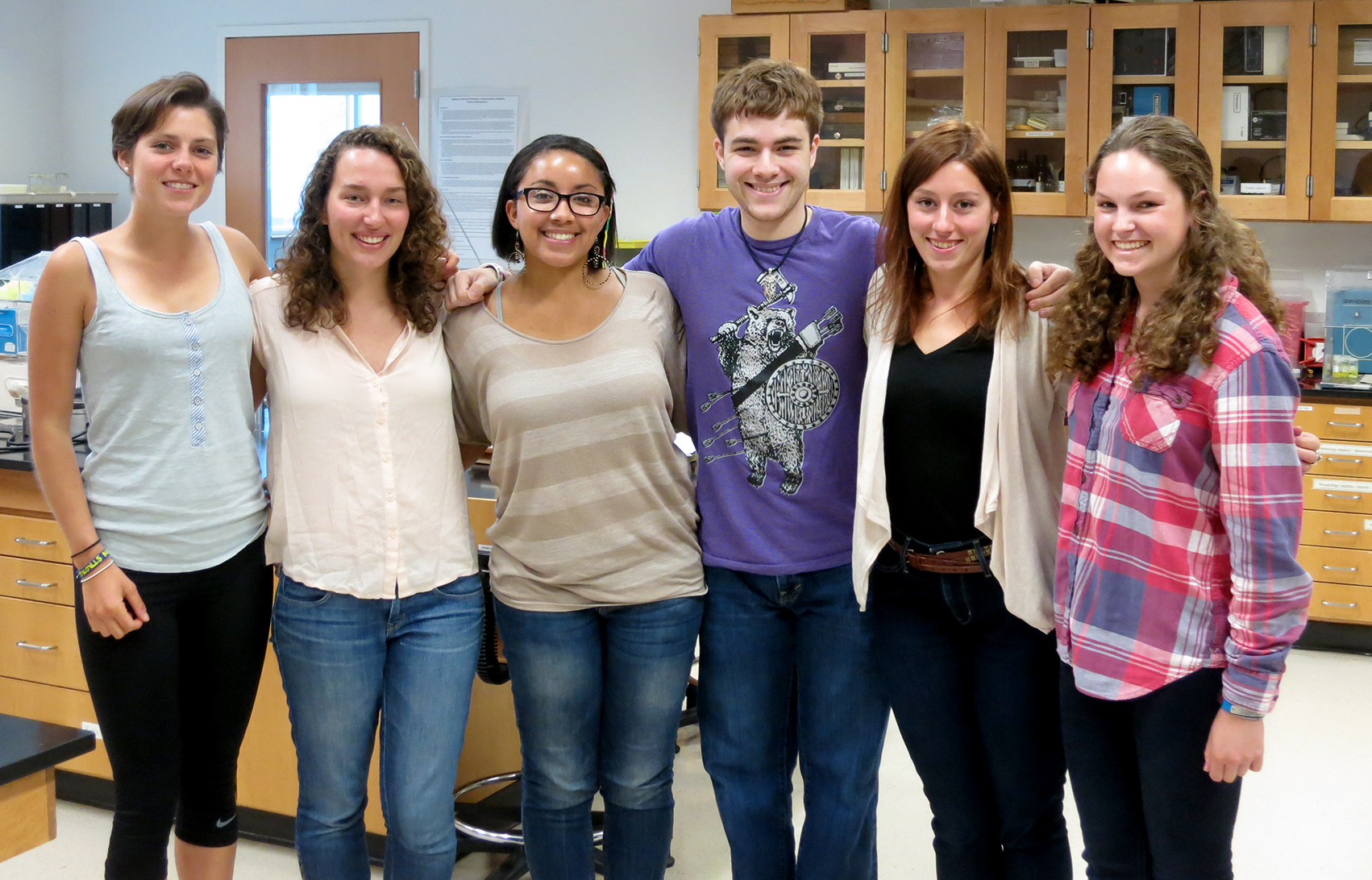 Obesity and diabetes are serious issues that public health officials are focusing on. The growing percentage of the population with these conditions is putting more pressure on the economic infrastructure of the health sector and causing declining health in more people. A bulk of the scientific literature blames sedentary lifestyles for the increase in obesity. However, the developing trend of people becoming categorized as obese is increasingly steep and Hamilton student researchers believe there are more biological and chemical components to the issues.
Claire Barton '14, David Borczuk '14, Megan Blair '16, Andraya Cole '14, Kelly Jenkins '14 and Hannah Lyons '14 are working with mice and turtles in order to study the biological effects of select chemicals and substances. One part of the experiment will be examining the effects of bisphenol a (BPA) on weight gain, fat character and different hormones. Many companies are promoting the fact that their products are BPA-free and officials warn of the chemical's similarities to natural hormones in our body, like estrogen.
The group will also delve into the controversy surrounding high fructose corn syrup (HFCS). The use of HFCS in beverages has grown at an alarming rate over the past 30-40 years. It is important to study the long-term effects of the relatively new ingredient before we continue using it, potentially causing more physical harm. Jenkins explained that current research differs on the safety of HFCS, but conflicts of interest are also present in the studies. Studies sponsored by corn refineries, which greatly benefit from the wide use of HFCS, tend to say that its use results in no negative effects.
The third component of the research will be the study of gastrin levels in diabetic mice. The researchers will look at this hormone, which is produced by the stomach after ingestion in order to stimulate digestion, and examine its role in diabetes.
Peter Lauro '12 performed similar pseudo-estrogen research with BPA in fish in the past, but this summer's experiment will involve mice and, if time allows, turtles. Cole noted that having a mammal that is easy to study to use as a model for humans could be beneficial for future research. BPA may have more effects on sexual components of fish while mainly affecting weight gain in mammals, demonstrating how the same chemical can influence different organisms in unique ways. Thus having a good mammal model for this study is essential.
Silas D. Childs Professor of Biology David Gapp is allowing the students to use this summer research opportunity to develop invaluable lab experience. The students are hoping to contribute to a large library of scientific research in the subject and hopefully fill in some knowledge gaps that other studies will need in order to perform their work.
This type of research comes with unique challenges and requirements. The group will use hundreds of microcentrifuge tubes for blood samples. Many phenotypic, or visible, changes are seen after months of exposure to their test compounds. Examining mice progeny and looking at the generational accumulation of the chemicals also won't be feasible in the short time span. Lyons was concerned that the group will not observe a large, telling trend in their data from their six weeks of work.
Barton is in the orchestra and a member of the WHCL executive board. Blair is an avid member of the equestrian team. Borczuk is a member of the DJ club and is employed by Information Technology Services. Cole is the captain of the dance team and works at the Writing Center. Jenkins enjoys playing the French horn in the orchestra and brass ensemble, and is a Quantitative & Symbolic Reasoning Center tutor and the president of the pre-professional Health Career Club. Lyons runs on the cross country, indoor and outdoor track teams and is a lab assistant for the Biology Department.
Barton is a graduate of Valparaiso High School (IN). Blair graduated from Hingham High School (MA). Borczuk is a graduate of Weston High School (MA). Cole graduated from Burncoat High School (MA). Jenkins is a graduate of Howell High School (NJ), and Lyons is a graduate of Darien High School (CT).