Biology Research-Based Artist to Lecture at Hamilton
---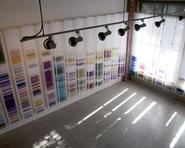 Geraldine Ondrizek, research-based artist and professor at Reed College, will present a lecture on Wednesday, Sept. 25, at 4:30 p.m., in the Bradford Auditorium, KJ. Her lecture is part of the art department's Visiting Artist Series, and is free and open to the public.
Ondrizek earned a bachelor's degree from Carnegie-Mellon University and went on to earn her master's degree from the University of Washington. For the past 20 years, she has created architectural-scaled works that house medical and biological information. Her works ignite interest and inquiry about the influence of cancer and other diseases on both individuals and entire families. She relies heavily on scientific inquiry, focusing on documenting biological specimens and exploring systems of categorization. She works closely with genetic scientists to trace ethnic identities, portray life spans and depict genetically inherited conditions.
Ondrizek's work is widely featured in galleries and museums across the nation. Most recently, she completed a commission for the front lobby of the University of Washington Medical Center in 2011. The works featured in this exhibit explore the nature of our bio-cultural differences and similarities. She assembled a rich collection of images from research done by prominent medical geneticists, including, University of Washington Medical Genetics founder Arno Motulsky and Peter Byers.