Over the summer, members of Untitled@Large came up with the idea of creating an e-newsletter to amplify the voices of BIPOC (Black, Indigenous and People of Color) in theatre. The result, Center Stage, debuted last week.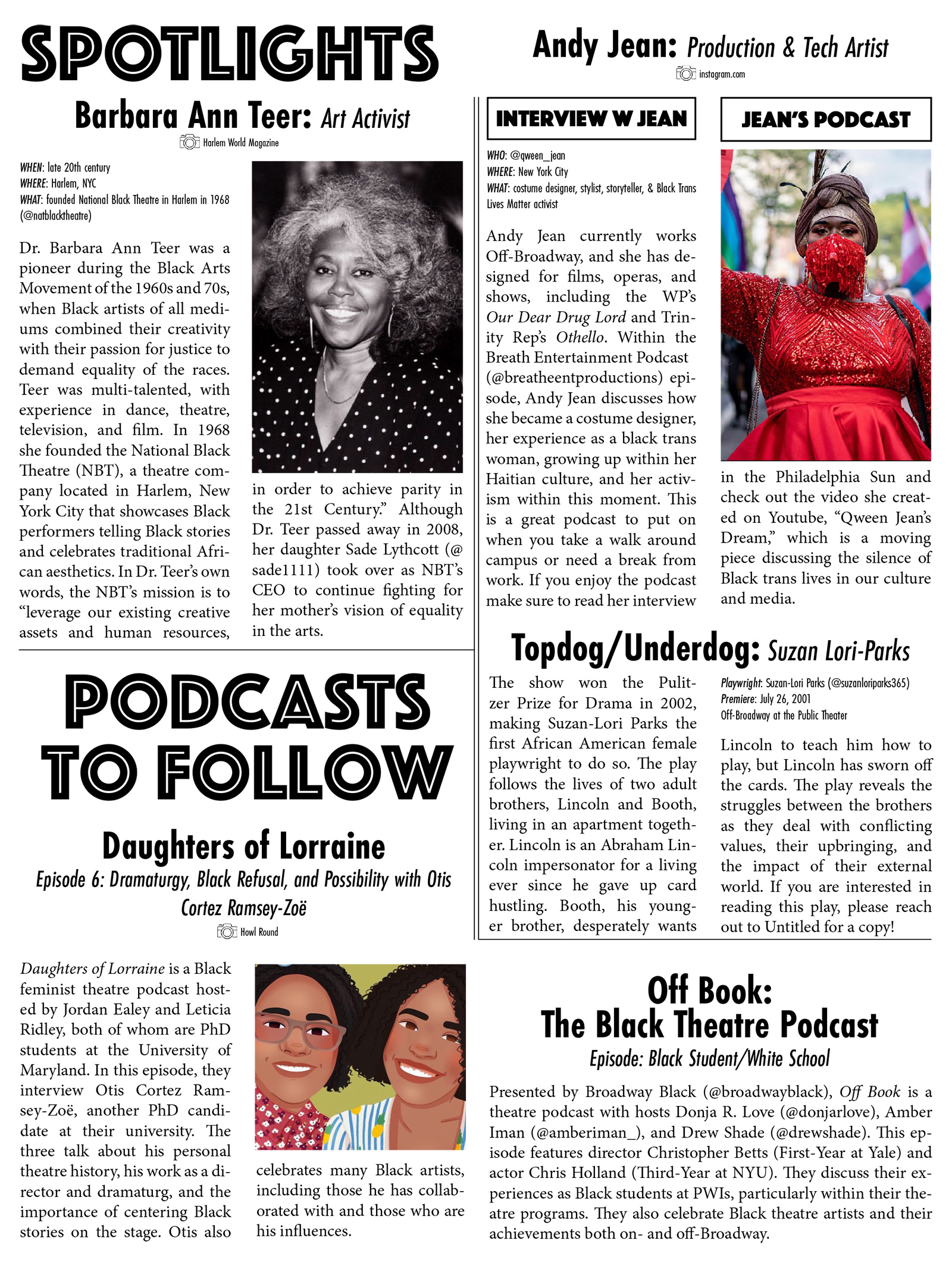 This first issue, which focuses on black artists and theatres, is a response to the nationwide protests that followed the death of George Floyd. These protests highlighted the need for a conversation in which Untitled wanted to be involved. "What can we do? Where can we go from here? Because something needs to be done," said Untitled's artistic director Lilia Harlan '22.
Center Stage gives Untitled the opportunity to support efforts of the Black & Latinx Student Union and the Feminists of Color Collective. According to literary manager Sabrina Yvellez '22, "We don't want to fall into performative activism," which she defined as activism motivated by the desire for popularity rather than dedication to a cause. To avoid this pitfall, Yvellez worked toward creating a structure for the e-newsletter that would allow it to "be maintained for years to come for the benefit of the entire Hamilton theatre community."
Every month, the e-newsletter will include "Spotlight" stories on activists, artists, podcasts, and plays. Links to a full website or an activist's social media page provide readers with resources for further information. Untitled also provides links to take action, such as making a donation or signing a petition.
Both Harlan and Yvellez agree that the e-newsletter is a work in progress. The e-newsletter provides everyone, from contributors to readers, with an opportunity for growth. How can we work toward, as Harlan said, "making sure that there is a space for everyone?"
Center Stage is just one way that Untitled@Large is working to incorporate antiracism practices. Moving forward, members will make more conscious decisions regarding the plays they choose to read/view and look into how the organization can expand Hamilton's resources to include material on and by groups of individuals that have been historically marginalized. Next semester, Untitled hopes to create spaces specifically for BIPOC students on campus.