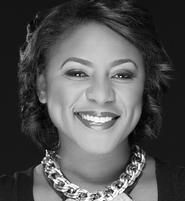 Alicia Garza, community organizer and one of the co-founders of the Black Lives Matter International movement, and Shelley Haley, professor of Africana studies and classics, will present a discussion titled "Black Lives Matter" on Friday, Sept. 18, at 4:15 p.m., in the Bradford Auditorium, Kirner-Johnson Building. The discussion is co-sponsored by the Women's Studies Department, the Africana Studies Department, the Student Diversity Council, Law and Society, and the Days-Massolo Center and is free and open to the public.
Outraged by the 2013 acquittal of George Zimmerman in the shooting of Trayvon Martin, Alicia Garza took to social media to express her anguish and love for the black community. Ending her message with Our Lives Matter/We Matter/Black Lives Matter, Garza helped to ignite a movement that went beyond the twitter hashtag.
Professor Shelley Haley was a distinguished visiting scholar at Washington University-St. Louis and participated in the Oxford Round Table. She has lectured widely on increasing the representation of students of color in Latin, ancient Greek and classics classrooms and on her research about the role of a classical education in the lives and careers of 19th-century college-educated black women.