BLSU Travels to New York City for Fall Break
---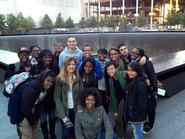 On Oct. 11, the students of Hamilton's Black and Latino/a Student Union (BLSU) traveled to New York City during Fall Break for a cultural trip. The group visited important locations known for their cultural, artistic or historical value. Among stops were a historical tour of Harlem, the national 9/11 Memorial & Museum, the Museum of Modern Art (MoMA), Times Square, and the Battery Park area where the Hamilton College NYC Program apartments are located.

Participants enjoyed the educational and social aspects of the trip. Kiana Sosa '14 said "The BLSU trip to New York was a real bonding experience. It was an eye-opener to the culture and history that related to BLSU's mission." Kenny Mai '13 added, "I feel like it was a good trip even for people who are from the city because we got to visit a lot of locations that many New Yorkers would not have been able to do in their own time. I especially enjoyed the tour of Harlem and visiting the 9/11 memorial."

BLSU does an annual trip every fall break in the spirit of increasing cultural awareness and strengthening the family bond between the members. The organization's goal is to empower its members within the Hamilton College Community based on the pillars of academics, cultural awareness, diversity and social justice. The organization also seeks to engage the Hamilton College community with opportunities and experiences to appreciate ethnic diversity.

Historically, BLSU is the result of a merger that occurred in 2008-2009 between the Black Student Union (BSU) and La Vanguardia (LV). The BLSU is committed to equally celebrating both cultures in their entirety as well as always acknowledging the roots of the two organizations that came before us.