Bonner Leaders Volunteer in San Juan, Puerto Rico
---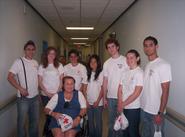 On January 11 through 15, Hamilton
first-year Bonner Leaders,
under the direction of the Levitt Center and accompanied by AmeriCorps VISTA Project Coordinator and Bonner Leader Program Coordinator Jordan Fischetti '08, took a service trip to San Juan, Puerto Rico. The purpose of the trip was to volunteer at various service sites in an area that was culturally distinct from where the group is based. The trip also offered participants an opportunity to bond as a unit so as to enhance their joint endeavors on return to campus. Students who made the trip were Stefanie Russell, Yoko O'Hara, Caroline Pantazis, Liam Ronan, Laura Gilson and Henry Edelson.
Leaders spent their time visiting and working up to
six hours a day at various service sites The day after arrival leaders volunteered at the San Juan Red Cross, helping clean and organize regular and emergency transport vehicles. The following day, the Bonner Leaders worked at La Fondita de Jesus, a boarding home for the homeless where they prepared and served meals for residents as well as helped run the house's clothing drive The third day of the trip was spent at a Veterans Hospital handing out comfort kits to and conversing with the patients. Finally, the leaders volunteered during their final day at a local high school as part of a cultural exchange with members of the Red Cross Youth Council and students in the high school's advanced English class.

According to the trip's leader, Jordan Fischetti, the San Juan experience was a great success. He went on to explain that coming away from the experience, he and other Bonner Leaders were provided the opportunity to see how similar, yet still quite distinct, our two cultures are. While wishing they had more time to delve more into the local culture and service community, Leaders left San Juan having participated in a deeply rewarding experience.

The Bonner Leaders Program is a program based on civic engagement where students spend 240 hours volunteering at their chosen service sites. It is part of the Bonner Foundation commitment to "intentional opportunities for students to develop as thoughtful, engaged citizens of our national and global community." (
www.bonner.org
).
Hamilton College is one of more than 65 college campuses nationwide with a Bonner Leaders Program uniquely designed with some common values and structures including leadership development for students and community partnerships. Bonner Leaders at Hamilton work 10 hours per week in a community agency for four semesters between their
freshman and senior years, allowing for time in their sophomore and/or junior year to go abroad. The program, in its third year, benefits both students and community partners.

-- by Danielle Raulli '10