Borton Featured on InsideHigherEd
---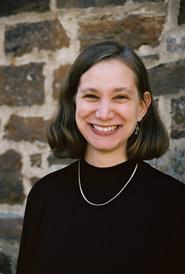 Associate Professor of Psychology Jennifer Borton's recording for the nationally syndicated Academic Minute program was featured on InsideHigherEd's website on Feb. 22. Borton discusses why trying to suppress negative thoughts is often counterproductive on the recording that was broadcast by public radio station WAMC on Feb. 7.
According to WAMC's website, the Academic Minute program "features professors from top institutions around the country, delving into topics from the serious to the light-hearted, keeping listeners abreast of what's new and exciting in the academy with topics ranging from updates on groundbreaking scientific research to an explanation of how the board game Monopoly can help explain the economic recession." WAMC is a regional public radio network serving parts of seven northeastern states. These include New York, Massachusetts, Connecticut, Vermont, New Jersey, New Hampshire and Pennsylvania.

The broadcast is also carried by It is also carried by KENW/KMTH-FM in New Mexico; Radio Reading Service of Mississippi; KMPB in Dillon, Colorado; KTSW in San Marcos, Texas; WNAA in Greensboro, North Carolina; WERB in Berlin, Connecticut; WUSR in Scranton, Penn.; WSUM in Madison, Wisc.; WLUR in Lexington, Virginia; WGHQ, WLNA and WBNR in Beacon, New York; WUIS in Springfield, Illinois; CRIS Radio in Connecticut; WKCC in Kankakee, Illinois; WRFA in Jamestown, New York; CISE in Saskatchewan, Canada; KISU in Pocatello, Idaho; KUCR in Riverside, California; KAMU in College Station, Texas; KRPS in Pittsburg, Kansas; KJZA in Williams-Prescott-Flagstaff, Arizona; KEDT in Corpus Christi, Texas; KXCV in Maryville, Missouri; WUOW in Oneonta, New York; WNUB in Northfield, Vermont.

Among the other colleges and universities that have participated in this program are Williams, Amherst, Middlebury, Mt. Holyoke, Columbia, Brown, Skidmore, Duke, Rensselaer and Vassar.