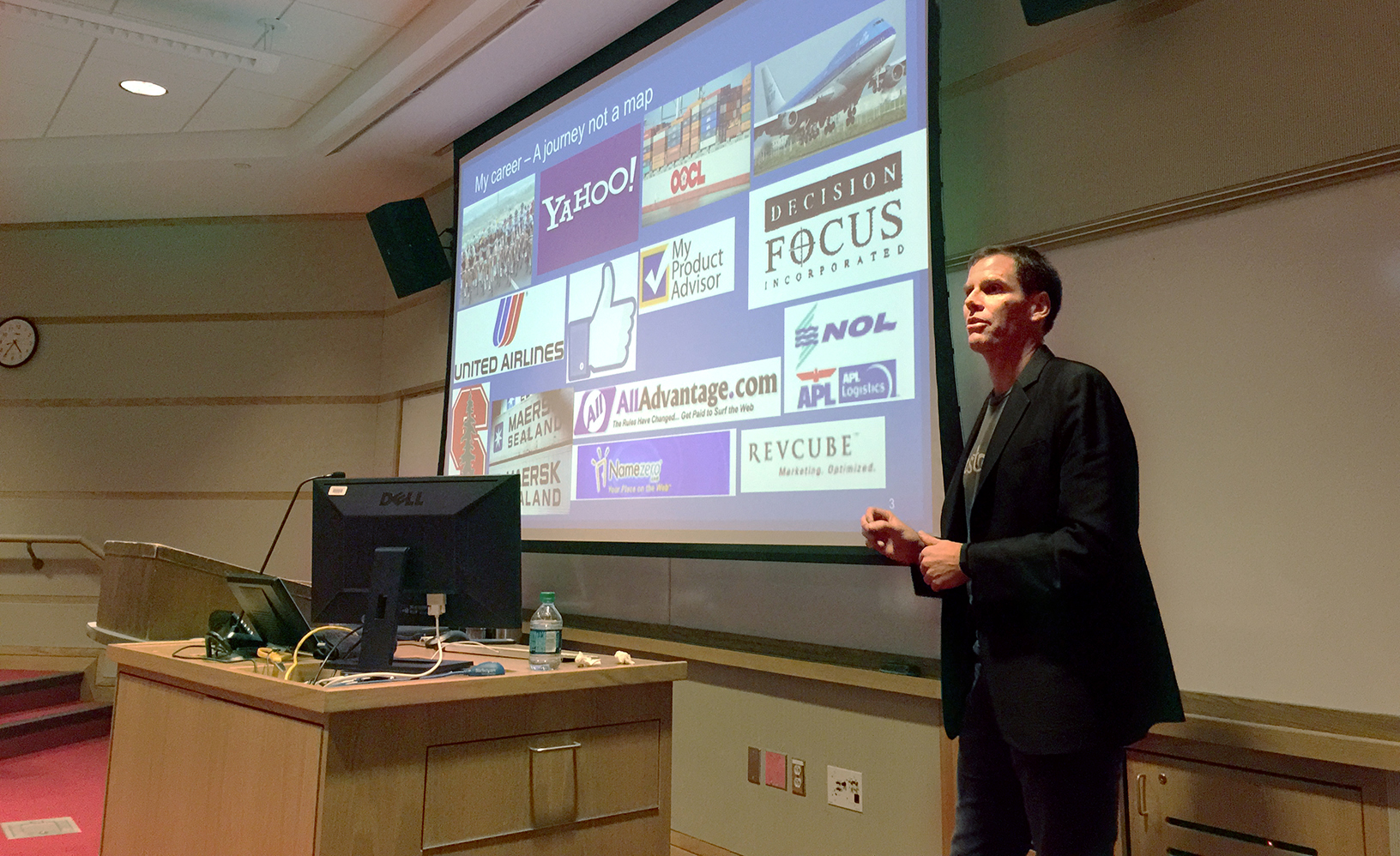 Brad Smallwood '90, head of measurement and insights at Facebook, returned to Hamilton on Dec. 3 to talk to students about his career at the social media giant. The discussion was hosted by the Maurice Horowitz Career and Life Outcomes Center.
After graduating Hamilton with a degree in mathematics, Smallwood earned his master's at Stanford University in operations research. He then became one of the early innovators in yield management and a world expert in containerized shipping, developing and running the pricing and revenue management systems for airlines, hotels and other industries.
He later founded several startup companies including Namezero, AllAdvantage, and Revcube, where he developed new ad targeting and ad serving techniques. For several years, Smallwood worked as general manager of Yahoo's advertising business, where he strengthened and expanded the online marketplace.
In his talk titled "From Start-ups to Facebook: A Career Conversation," Smallwood shared his story with the audience, starting as a post-grad, striving cyclist and outlining his rise to great success. "If I had mapped [my future] out when I graduated from here, it wouldn't have mapped out this way," he said. For Smallwood, his entire career has developed alongside the growth of modern technology, following the rise of the Internet and social media. "It's important to adjust to the times and figure out what new things interest you," Smallwood advised. "My hypothesis is that if we tried to predict what careers would exist 20 years from now, we'd be wrong."
Smallwood is responsible for running the online auction that determines which ads people see and for heading the forensics to keep said ads up and running. He described the benefit this auction has for companies to pinpoint the specific demographic they wish to target in their ads, versus the more traditional method of signing insertion orders for which there are set prices for the products and more general coverage (like TV ads). He also shared his aversion to Google's emphasis on Internet clicks as the prime source of measurement for advertisers. In brand advertising, he said, "people never click on ads, but…they still deliver value. No one clicks on TV ads," he joked.
Smallwood spoke more specifically about his experience working at Facebook, where the company works under encouraging mottos like "What would you do if you weren't afraid? and This journey is 1% finished. "We're all about collaboration," he said, before going on to describe the company's comprehensive shift toward mobile business and mobile advertising.
Such changes are normal for Facebook, Smallwood pointed out, as they are always current in their actions, striving to offer the newest, most beneficial updates to promote greater interpersonal connections. "People hate change," he admitted. "No matter what we're going to do, people are going to hate it at first…we've accepted it."
The Facebook team's most recent project is internet.org, a global partnership between technology leaders, nonprofits, communities and experts who work together to bring the Internet to the 2/3 of the world (particularly African nations) that doesn't have it.
Informative and entirely interactive, Smallwood's talk enlightened students on the many possibilities and employment opportunities they may never have realized were available—or which may not even yet exist. He recommended that students be patient, curious and current. "You have to take risks if you know you're going to be doing what you want to do."