Brad Fleischer '00 in "Bengal Tiger at the Baghdad Zoo"
---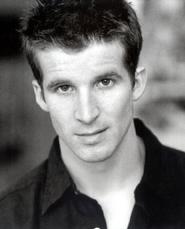 Bradley Fleischer '00 is playing the solider Kev in the Broadway production of Rajiv Joseph's "Bengal Tiger at the Baghdad Zoo," with Robin Williams. Fleischer has been playing Kev since the first run of the play in California in 2009 and describes his character as "young" and "naïve," someone who "thinks that war is going to be like a video game, he's just going to go over there and become a hero."
"Bengal Tiger at the Baghdad Zoo" follows the lives of two American Marines and an Iraqi translator who are "forever changed by an encounter with a quick-witted tiger who haunts the streets of war-torn Baghdad attempting to find meaning, forgiveness and redemption amidst the city's ruins," according to the play's website. Other cast members include Glenn Davis, Hrach Titizian, Sheila Vand, Necar Zadegan and Arian Moayed, with Hend Ayoub, Corey Brill, Daoud Heidami and Sherman Howard. It will run through July 3.
At Hamilton, Fleischer majored in math and theatre. He went on to earn his masters of fine arts at University of California San Diego in 2005. His first Broadway production was "Coram Boy." He has appeared in the television shows "Over There," "Prison Break," "Law & Order," "Leverage," "The Unit," "Jericho," and "24." He was in David Rabe's "Streamers" and originated Rajiv Joseph's "Gruesome Playground Injuries" as well. He is thrilled that Eso Unusan '00 and Ben Pierson '00 were at Bengal Tiger's opening night.
Fleischer's father Edward N. Fleischer '63, uncle Donald R. Fleischer '66, and cousin Jeffrey Robert Fleischer '94 also attended Hamilton.