Breland '80 Receives TSC Alumni Award
---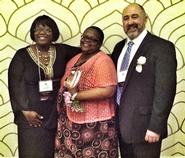 Phyllis Breland '80, director of Opportunity Programs and Pathways, has been named the recipient of the Tri-State Consortium of Opportunity Programs in Higher Education Alumni Award for 2013. She was honored at an award banquet on April 9 in Elizabeth, N.J.
Breland's profile in the event program praised her, saying that among other things, she "works tirelessly with her students and is a strong advocate for them and for the program" and that "she continues to reinvent strategies and practices in order to stay responsive to the changing student population."
According to Breland's award letter, the "award was created by the Executive Board of the Consortium to recognize outstanding alumni from Opportunity Programs in New Jersey, Pennsylvania and New York who have demonstrated exceptional achievements during their college and professional careers and demonstrate the spirit and intent of opportunity programs."
Breland has served as Hamilton's Opportunities Programs director since 2001. She was honored at the YWCA of the Mohawk Valley's Salute to Outstanding Women in 2008.