Plate Comments on Summer Movies on CNN.com
---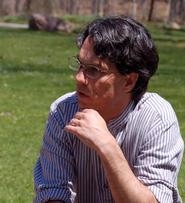 Aside from the summer blockbusters like Bridesmaids, Hangover Pt 2, and Transformers, a few smaller scale films have been making the rounds, stirring up chatter in cinema lobbies and on the Internet. Visiting Associate Professor of Religious Studies S. Brent Plate has commented on a couple of these films.
On CNN.com's Belief Blog Plate is quoted on the recent atheist-friendly and Sundance Best Drama Nominee, The Ledge. The film tells a love story between an atheist and pious Christian, each of whom have to come to terms with their own religious beliefs and behaviors upon their encounter with each other. "It's very sad that our ability to hold a conversation about certain topics is often reduced (to insults)," said Plate. CNN's article has generated nearly 4,000 comments in the past few days.
Plate wrote an essay response to The Ledge on NYU's "The Revealer," in which he argued for the "religiosity of atheism," that "we might think of atheism and Christianity as two competing, though often overlapping, narratives about how the world operates."
Another big hit in the non-mainstream summer circuit, Terrence Malick's Tree of Life, is the winner of this year's Palme d'Or at Cannes and is now making its way to theaters across North America. Plate's essay on the film, "Visualizing the Cosmos," published on Killing the Buddha, displayed a history of visualizing mythologies. The visual origins of the cosmos displayed in Malick's film are compared to cosmic images in the Nuremberg Chronicles (of which Hamilton's library has a copy), Darwinian evolutionary charts and Christian-oriented images of creation.
A second essay by Plate on Tree of Life was published in the Ford Foundation-funded, Religion Dispatches and argued against many reviews that suggest the film provides a simplistic either-or choice. Instead, it is the third way, the way of the brother that binds the film.