Briggs Publishes on Joyce, Presents on Pound
---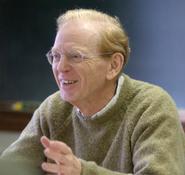 Austin Briggs, Hamilton B. Tompkins Professor of English Literature Emeritus, published a review of Gordon Bowker's biography James Joyce. "A New Life of Joyce" appeared in the Fall 2011 James Joyce Literary Supplement.
Briggs also published "Mrs. Sinico's Pupil," an essay on Joyce's short story "A Painful Case," in a festschrift titled a joyceful of talkatalka from friendshapes. The festschrift was for Rosa Maria Bollettieri Bosinelli upon her retirement from the Advanced School of Modern Languages for Interpreters and Translators of the University of Bologna at Forlì, Italy.
In addition, Briggs presented "Ezra Pound: My Fascist/Traitor/Lunatic/Anti- Semite/Genius Poet" in February in the Teatro Angela Peralta, San Miguel de Allende, Mexico. The talk was delivered on behalf of PEN, the world's oldest international literary and human rights organization.