Bristol and Schambach Scholars Present Research
---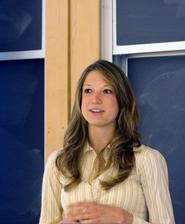 Following a reception in the Science Center, five Bristol and Schambach Scholars presented their respective projects to a crowd of accepted students and parents on April 19. Scholars selected to these programs, honoring William M. Bristol '17 and Hans H. Schambach '43, are recognized for representing the highest level of personal and academic achievement and are chosen from each entering first-year class to Hamilton. All recipients have the option of pursuing a research project that includes a $4000 stipend. Each of the scholars who presented on April 19 went to a different location – some as close as Massachusetts and others as far as Hong Kong – to pursue their individual interests.

William Bauder '10 presented a project titled "Building a Nuclear Physics Experiment." A physics major at Hamilton, Bauder wanted to further investigate fundamental physics through neutron decay; thus he went to the National Institute of Standards and Technology in order to work on the aCORN experiment. His faculty advisor on the project was Professor of Physics Gordon Jones.

Bauder explained that there are two methods used by physicists to resolve problems with the standard model: high-energy experiments (like the Large Hadron Collider) and low-energy experiments, which utilize neutrons by examining their structure and asymmetry. The latter option, Bauder noted, was the most efficient (and most economical) choice for his research. Ultimately, Bauder went on to explain that his project was successful, and that his scholarship allowed him to carry his research "beyond the scope of Hamilton, and even the post-graduate level," tying his Hamilton experience into the "big picture."

Paul Griggs '10 presented a project titled "Feng Shui: What's the Big Idea, Anyway?" Griggs travelled to Hong Kong in order to determine what constitutes good feng shui in high-rise architecture, and whether good feng shui correlates with Western notions of beauty. Feng shui, he explained, is "a system of arranging buildings and objects in relation to the environment in order to optimize 'qi' [a kind of energy flow]."

First, he showed pictures of the Bank of China tower, which supposedly has the worst feng shui in all of Hong Kong due to the building's sharp angles and aggressive stance. Next, Griggs showed the Lippo Centre, which supposedly has good feng shui, but not good enough ("The Bank of China is pointing at it," he explained). Then, he showed the HSBC building, which apparently has the best feng shui in the city ("I think it's sort of hideous," commented Griggs) and which conspicuously does not look like a building a night, due to its unusual lighting. Griggs concluded that buildings with good feng shui tend to embrace the surrounding environment, rather than just imposing upon it. His faculty advisor was Professor of Mathematics Richard Bedient.

Laura Tornatore '10 presented a project titled "From Bean to Bar: The Sweet Story of Chocolate," which she worked on under the advisement of Professor of Economics Elizabeth Jensen. Beginning her presentation with some of the history of chocolate, Tornatore explained that chocolate's Greek name, theobroma, means "food for the gods." And even though chocolate was considered a delicacy 10,000-15,000 years ago (originally used for trade, ritual sacrifices, and purification ceremonies), it didn't really grow in popularity until Cortes brought it to Europe in 1528, where the Spaniards revolutionized the chocolate-making process by adding sugar. Tornatore then elaborated upon the process itself, explaining that everything begins with cacao, a large bean that only grows in rainforest-like conditions.

Supplementing her explanation with pictures that she took first-hand, Tornatore stated that chocolate harvesters must first cut down the beans from the tree and scoop out the pulp. Then, they must dry the bean seeds and roast them. The harvesters proceed to separate the shells to get the "nibs" (the seeds within the seeds and the essence of chocolate), which the harvesters then grind and melt into chocolate liquor. This liquor, a bitter concentrate, can be flavored as well as diluted with milk, which results in milk chocolate.

Erin West '11 presented a project titled "Pintxos and Picasso: An Exploration of Cultural Expression in Local Spanish Art." West explained that she wished to "explore the relationship between culture (festivities, dance, music, peoples, and trends) and local visual art." In order to do so, she visited a variety of art venues, including museums in Seville, Granada, Madrid, Toledo and Barcelona. West found a few common themes that apparently pervade much of Spanish art. First, there's a large influence of color (particularly yellow and red, the national colors). Second, many artworks depict festivities and holidays, like Andalucian Holy Week, which is around Easter time. Third, political metaphors abound (she pointed out one particular painting that uses the image of bullfighting to invoke the conflicts of the Spanish Civil War).

West also explained the cultural phenomenon of pintxos ("unique to Spain," she said). Pintxos are gourmet delicacies that come in many flavors and sizes and are considered a form of social and visual art -- so much so, in fact, that Spanish chefs commonly compete to see who can cook up the most beautiful pintxos. Her advisor was Jeremy Medina, the Burgess Professor of Romance Languages emeritus.

Finally, Kendra Wulczyn '10 presented her project, "A Day in the Life of a Doctor and the Potential Impact of Healthcare Reform." She sought to "gain a better understanding of what physicians do on a daily basis… and how healthcare reforms might directly impact physicians." Her faculty advisor was Douglas Weldon, the Stone Professor of Psychology and director of the Neuroscience program.

Wulczyn went to Massachusetts General Hospital to observe three different doctors and thus three different approaches the practice of medicine. She ultimately observed that doctors must balance time with the many aspects of their career, since being a medical practitioner is more than just simply treating patients: doctors must also be researchers, teachers, small business managers and a whole host of other roles. Wulczyn went on to explain that the recent healthcare reform has many positives (extended access to care) as well as several negatives (the bill does not address the shortage of physicians). She concluded that "ultimately, a balance must be struck between the willingness to change and having the necessary resources to do so."

There are currently 14 Bristol/Schambach scholars in the class of 2010, 18 in the class of 2011, seven in the class of 2012, and nine in the class of 2013.