British Artist Trevor Winkfield to Lecture
---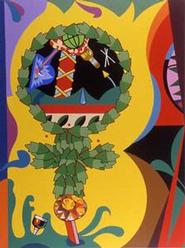 Trevor Winkfield, a British artist whose paintings create the illusion of layered collages and clean, hard-edged graphic designs, will speak at Hamilton College on Wednesday, Oct. 28, at 4:15 p.m., in the Kirner-Johnson auditorium as part of the Hamilton Visiting Artists Series. The program is free and open to the public.

The New York Sun described Winkfield's paintings as "betraying a collage mentality while totally eschewing its touch. His paintings are seamless, uniform, and automobile-like in their finesse. But his vocabulary is intimately informed by the aesthetic of collage, bringing together both commonplace and esoteric objects in startling and suggestive juxtapositions. He could be called a conceptual collagist, cutting and pasting within the mind's eye."

Winkfield has had solo exhibits at several New York galleries including the Tibor de Nagy Gallery, the Barbara Ann Levy Gallery, the E.M. Donahue Gallery and the Fischbach Gallery as well as the Institute of Contemporary Art in Boston and the Coracle Gallery in London. His work has been included in dozens of group shows throughout the country and the world. He earned a Masters in Fine Arts from the Royal College of Art in London.

For additional information call 859-4269.