Buchman Makes Opera Conducting Debut
---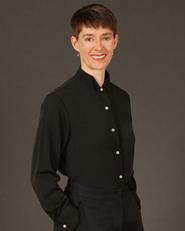 Associate Professor of Music Heather Buchman made her opera conducting debut when she led the Society for New Music in the world premiere of Eleanor Roosevelt, a new chamber opera by composer Persis Parshall Vehar, on March 26 and 27 in Syracuse.
Based on Rhoda Lerman's book and play, Eleanor: Her Secret Journey, the opera describes Eleanor Roosevelt's journey of finding her voice and her calling to work for human rights and peace. It culminates with a chorus singing the United Nations' Universal Declaration on Human Rights. Roosevelt headed the committee that wrote the document in 1948.
The premiere was reviewed in the Syracuse Post-Standard. Buchman also wrote a preview of the opera on her blog, which was circulated by the Society as unofficial preconcert notes.
Buchman also played principal trombone with the Rochester Philharmonic March 18-20, in a St. Patrick's program conducted by Jeff Tyzik, and she played in the section for a gala performance with Joshua Bell.