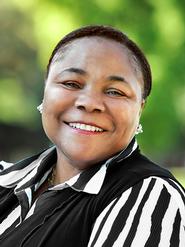 Lolita Buckner Inniss, the Elihu Root Peace Fund Visiting Professor of Women's Studies, presented her initial research as a chambers (legal working group) leader for the Feminist International Judgments book project on May 8.
Legal scholars from around the world are participating in the project to rewrite key judgments in international law from a feminist perspective. Each chambers is tasked with analyzing and rewriting selected opinions of the Permanent Court of International Justice, the International Court of Justice, and the Inter-American Court of Human Rights, among other international legal bodies.
The group convened at the University of London's School of Oriental and African Studies at for its first collective in-person meeting. Additional meetings will be held in Geneva and The Hague in 2015.