Building Dashboard Illustrates Energy Savings
---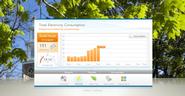 For nearly 200 years, Hamilton College has been committed to environmental stewardship. Hamilton has a strong repertoire of environmentally sustainable practices, from the continual planting of trees on campus and investment in renewable energy resources for KJ and the Glen House, to student activist groups such as the Hamilton Environmental Action Group, the Recycling Task Force and Sustainability Committee.

Building Dashboard is an energy consumption-tracking resource that Hamilton has taken advantage of to manage its environmental impact. Building Dashboard, developed by Lucid Design Group, is an interactive Web site that collects and displays, in real time, energy consumption information that it assembles from dataloggers in different buildings around campus. The dataloggers process and transmit information obtained from sensors and monitors that measure the consumption of resources such as electricity, water and natural gas.

In addition to being able to display, for example, the number of kilowatt hours (kWh) of electricity consumed by McEwen Dining Hall over a certain period of time, it can also take that technical information and convert it to terms more understandable to the average member of the Hamilton community. For instance, McEwen used 20,418 kWh of electricity in the week of Aug. 31 to Sept. 5. Using Building Dashboard, it's possible to see that this is the energy equivalent of burning 15,314 lbs of coal, or driving 13, 251 miles in a car.

Building Dashboard can also measure the contributions of the newly installed wind and solar systems connected to KJ and the Glen House. The three systems (solar panels at both facilities and windmill at KJ), over the last month, have produced 4,917 kWh of electricity, preventing the discharge of 4,510 lbs of carbon dioxide into our atmosphere. This is the rough equivalent of the carbon dioxide that would be produced by making 21 round trips from Hamilton to New York City in a Toyota Prius.

Building Dashboard makes Hamilton's energy use information accessible to the entire community with an informative, user-friendly Web site. With this new technology, Hamilton hopes to continue on its path toward becoming a green, carbon-neutral campus.