Cafruny and Lehmann Co-Author Article in New Left Review
---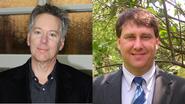 Professors Alan Cafruny and Ted Lehmann of the Government department have published an article in the New Left Review titled "Over The Horizon? The United States and Iraq." The article evaluates the retained influence of the U.S. in Iraq and the broader Gulf region in the aftermath of the troop withdrawal completed in December 2011. The piece grew out of a letter to the editor that they published in The Financial Times on Dec. 21, 2011.
Cafruny is the Henry Platt Bristol Professor of International Affairs and Lehmann is an assistant professor of government.

Cafruny and Lehmann conclude that the U.S. continues to have extensive and ongoing influence within the Iraqi political and economic system, principally through the major oil companies and "security services" providers that affect Iraq's position within the region and the world.
Cafruny also recently published an article in Perspectives on Europe titled "The Tragedy of the Eurozone and the Crisis of European Integration Studies" (with Magnus Ryner).