Caitlin McGilley '08 is Named Hamilton's Seventh GOLD Scholar
---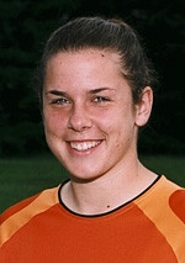 Hometown: Northfield, NJ
High School: Lawrenceville School, Princeton, NJ
Major: Psychology
Last movie seen in theaters: Charlie Wilson's War
Last play seen on Broadway: Legally Blonde: The Musical
Golf Handicap: 12
Hobbies: Squash, friends, Netflix, skiing, IM Hockey, Tony's House, Surfing, George Foreman Grilling, Flight Simulator

Thanks to the generous support of its young alumni, Hamilton College is pleased to name Caitlin McGilley '08, of Northfield, NJ, as its seventh GOLD Scholar.

Caitlin's Hamilton experience began in 2004, but it wasn't until the fall of 2007 that she realized one of her greatest triumphs: helping the Hamilton Women's Soccer team beat previously undefeated Williams in NCAA Division III sectional semifinals. With the cards stacked against the Continentals, McGilley, Hamilton's fearless goalie, made eight saves ensuring a 2-1 victory on Williams' home pitch that left the Ephs wondering what happened. A crowning achievement on a great Hamilton career, the victory is emblematic of Caitlin's poise, competitive spirit and character.

Although she grew up near Atlantic City, McGilley doesn't gamble – except on herself. During her sophomore year in high school she transferred to the Lawrenceville School in Princeton, N.J. where she participated in varsity athletics, including soccer, ice hockey and lacrosse. When it was time to look for a College, Caitlin discovered Hamilton and Women's Soccer Coach Collette Gilligan.

McGilley knew that the academics at Hamilton were strong and the social scene was vibrant, but as an eighteen-year-old, her focus was soccer. Caitlin was recruited by a number of schools – many with Division I programs. So what connected the dots to Hamilton? The answer lies in the rich variety of people who live and work on College Hill. Specifically, it was Colette Gilligan, the 2007 Liberty League Coach of the Year, who encouraged her to apply and come play soccer for the Buff and Blue. And that was just the beginning.

A starter since freshmen year, Caitlin is the epitome of an all-star soccer goalie. When you talk with her, however, it's clear that soccer is just the tip of iceberg. Cool and confident in her senior year, she's a four-sport athlete (soccer, ice hockey, lacrosse and softball), a scorekeeper for the basketball team, chair of the judicial board, a resident advisor, vice-president of Hamilton Supports the Troops, an intern in the Office of Residential Life, a member of the senior gift committee and a sister (and former sergeant at arms) of the Alpha Theta Chi (ATX) sorority.

Consummate athlete and involved community member, you might get the impression that Caitlin doesn't have the time for her studies. And that might have been true her freshman year. "I was focused on soccer and having a good time my freshman year. I wasn't thinking about my classes very much." This approach proved problematic in her sophomore year so she made an executive decision to change her habits and get with the program. But she couldn't do it alone.

There are two people who Caitlin cites as integrally positive forces in her Hamilton experience: Coach Gilligan and Visiting Instructor of Psychology Kelly Landry. "Sometimes it seems like Colette is a mother to me," she says "She's taught me the virtues of effective time management and is a ready source of advice. Whether or not I always take her advice? Well, that's a different story." Her relationship with Professor Landry is similar, but in the classroom. "Kelly's the best teacher I've ever had in my life," Caitlin says "Her course on Counseling Psychology taught me how to counsel people, which is one of life's greatest and most important skills." Of course this relates directly to her intense interest in Psychology, her major.

With Colette and Kelly supporting her, Caitlin made Dean's List in the fall of 2006 and the fall of 2007 – in the midst of soccer season. If you think this move was easy, however, you're wrong. When asked about her greatest challenge on College Hill, Caitlin quickly points to this experience. "Having to find my focus and change people's perceptions about me was incredibly challenging, though completing my thesis is a close second," she says. "Either that or keeping score at the basketball games. That's some seriously stressful work!"

So what's the next step for a quintessential Hamilton scholar-athlete? "Well, some people may be surprised, but I signed up in December to serve my country in the Navy. Three weeks after graduation in May I'll be headed to Officer Candidate School in Newport, RI for a few months and then to Virginia for the winter. I've always wanted to travel and see the world, plus I'm a total water baby." Sounds like a pretty good fit.

When asked what she might do after her eight years of Military service is up, Caitlin says "Maybe I'll teach history or go back to school, or study to be a pilot. I've always wanted to fly planes and although I won't be doing that in the Navy (because of sports injuries), maybe I can do it afterward."

Regardless of what McGilley chooses, it's a sure bet that she'll be successful. And she attributes her success to the Annual Fund. "I could never have come to Hamilton were it not for alumni generosity to the Annual Fund. I am honored to be a GOLD Scholar; thank you."

GOLD Scholars is an initiative supported by the Annual Fund, which has always provided direct support for the College's most important current priorities, especially scholarship aid. Startinglast year, gifts from the GOLD Group – Graduates of the Last Decade – specifically support students on campus. With each $15,000 increment collectively contributed, the College will select a student as a GOLD Scholar for 2007-08.