Campus Engagement: A Trustee Priority
---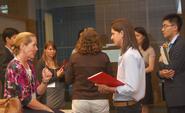 Despite a weekend full of committee meetings, members of the Hamilton Board of Trustees still found many opportunities to engage one-on-one and collectively with students, faculty and staff during the Board's quarterly meeting March 1-2 in Clinton.
Beginning Thursday night, trustees who arrived early joined the college's varsity head coaches for dinner and conversation at the home Dean of Faculty Pat Reynolds. Athletic Director Jon Hind commented that coaches are often viewed from afar, but this kind of event allows both coaches and trustees to meet each other in a casual, relaxed environment. He classified the event as "outstanding."
Students had several opportunities to meet trustees on Friday beginning with a coffee and dessert meeting with Jennifer Hill '87, who is chief financial officer of Bank of America Merrill Lynch, and Susan Skerritt K'77, who is executive vice president & chief strategy officer of the Bank of New York Mellon. The gathering was arranged for female students interested in talking about careers in business with a focus on finance and consulting. According to Associate Director of Employer Relations Abby Taylor, "The discussion was great -- lots of questions from the students and answers from alumnae. It was 45 minutes before anyone really mentioned anything about women in finance . . . until that point, it was just about finance." Several students had already established connections with the trustees or with their employers; one student had secured a job at Bank of America and another had made plans to shadow Jennifer Hill as part of HamiltonExplore.
At lunch trustees listened to Professor of Music Lydia Hamessley describe the new online course she is teaching for alumni, Music in American Film 1900-1977. Hamessley showed clips from a taping of a class, so the trustees could see precisely what the course participants view. She also explained the "behind the scenes" computer layout for the class, which includes sharing video clips, chat boxes, a space for instructor notes and a place for class polls. Hamessley was "very pleased that the audience was so enthusiastic and positive about the course. … One trustee said that after even my short presentation, she was going to experience films differently since she felt more aware of the role of music in film."
Seniors met with trustees at a networking reception Friday afternoon. "I thought the reception was a great way for seniors to engage with trustees whom they might not have the opportunity to meet otherwise," observed Galia Slayen. "The briefing made it easier to introduce yourself to a trustee with similar interests."
Senior Rebecca Shields said, "It was awesome being able to talk with trustees and hear about their experiences. They are still so proud of this school and community ... they really care about the school and are so willing to give back to aid in our experience here."