Campus Safety Hybrid SUV Is Easier on the Environment
---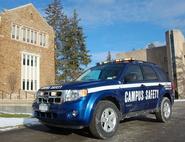 Hamilton is continuing its efforts to go green with the purchase of a Ford Escape Hybrid SUV for the Campus Safety department. It is believed to be the first such vehicle used for full-time patrol by a college's campus safety or police department in Central New York. Hybrids typically offer better fuel economy and a lower impact on the environment. Concern for the environment as well as the rising cost of gasoline led Hamilton to purchase the vehicle.
According to the Web site
www.fueleconomy.gov
, "Hybrid-electric vehicles (HEVs) combine the benefits of gasoline engines and electric motors and can be configured to obtain different objectives, such as improved fuel economy, increased power, or additional auxiliary power for electronic devices and power tools."
When it came time to look at replacement vehicles for Campus Safety, the department researched the possibility of a hybrid and whether it would meet its specific vehicle needs. Hamilton representatives spoke with the University of Toronto Police and New York City Parks Enforcement, the two closest police departments that also use the Escape Hybrid. Toronto uses its vehicles for parking enforcement and NYC uses hybrids mainly for patrolling its city parks.
"Campus Safety is a unique department on campus in that we are here 24 hours-a-day, seven-days-a-week, all year long," said Campus Safety Supervisor Mike Schwartz. "This also means that we have two to three vehicles on the road all the time. With the volume of our vehicle use, we're happy to do whatever we can to reduce our consumption of gasoline and reduce our carbon footprint. As a department and a part of the greater Hamilton community, we feel strongly about being good stewards for the environment," Schwartz added.
Campus Safety is committed to going to an all hybrid fleet, according to Schwartz. The time table for this will be based on the available funds needed to purchase these vehicles since hybrids are more expensive than their conventional counterparts.
However, although the up-front cost of a hybrid is more, buyers recover their cost fairly quickly. Schwartz researched this and found that based on the fuel cost savings, the college will recoup the entire cost differences within 28 months and actually see a cost savings of more than $20,000 for its fleet of vehicles during these vehicles' lifespan. This estimate is based on a current gasoline price of $3.25, so as the cost of gasoline goes up, so will the savings. Schwartz noted that "in just the one week that our staff has used the hybrid, we have been able to obtain more than twice the miles per gallon that we get with our gasoline-only Ford Explorers."
Schwartz voiced the hope that Hamilton's Campus Safety Department eventually "becomes the first campus safety agency in New York and all of the U.S. to have a 100 percent hybrid patrol fleet."