Career Center Hosts Interview Mojo Workshop
---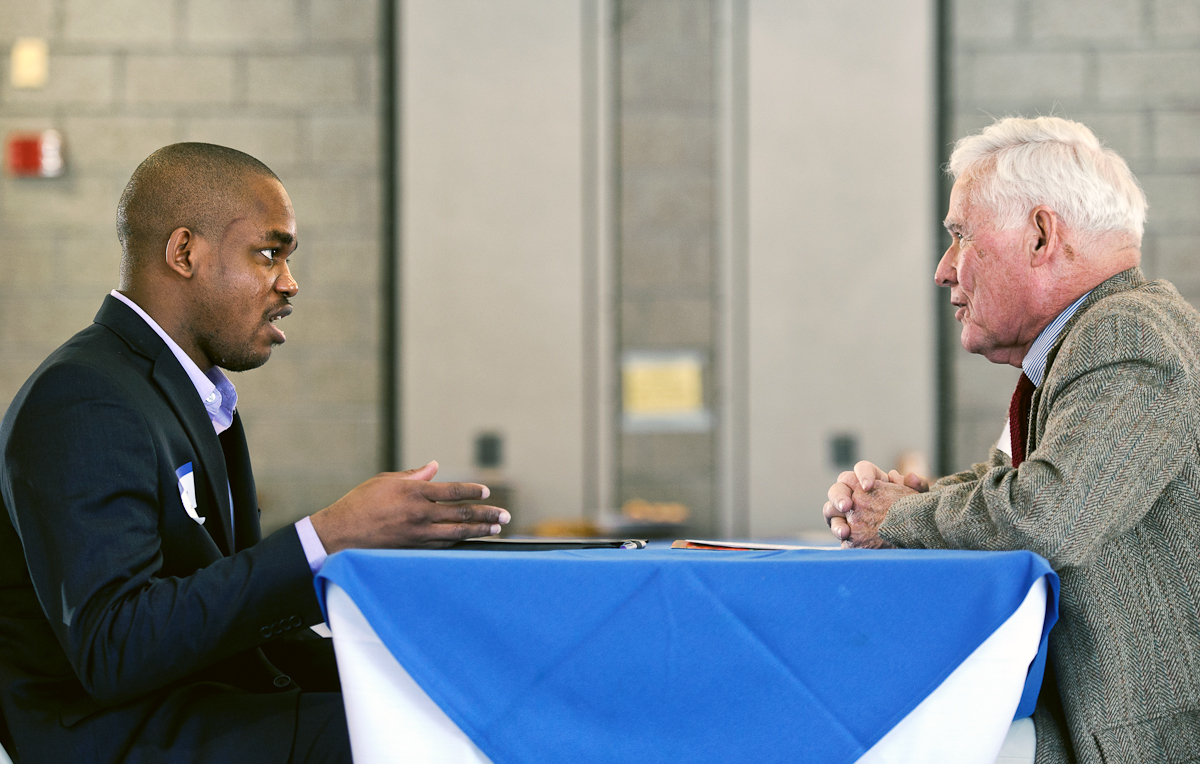 Hamilton's Career Center is constantly evolving and creating new programming to help students achieve success following graduation. In just the last few years the Career Center launched HamiltonExplore, a career shadowing program over winter break, and Sophomore Jumpstart, a workshop that helps second-year students identify and start to pursue potential career fields. This year, the Career Center introduced its newest initiative, Interview Mojo, which focused on the skill of job interviewing and the ways in which it can be practiced and improved.
The first Interview Mojo workshop took place on Jan. 27. The afternoon began with 117 juniors and seniors gathering in the Fillius Events Barn for a panel on interviewing skills. Career Center director Mary Evans '82 introduced the panel and promised the improvement of interviewing skills for participants. She laid out the afternoon's agenda: after the panel each student would have the chance to complete two mock interviews to receive feedback, as well as participate in a small group discussion on the finer points of interviewing, facilitated by members of the career center staff.
The panel was moderated by Amy Owens Goodfriend '82, alumna and trustee who discussed "Selling Yourself With Confidence." Panelists included Brad Caswell '74, P'13, Vanguard Charitable Endowment Program chief operations officer; Susan Mason, director of Hamilton's education studies program and Oral Communication Center; and Abby Taylor, associate director of employer relations at the Career Center. The panelists discussed their experiences of conducting interviews and being interviewees themselves. They provided suggestions on larger concepts like prep work and research prior to an interview, while also commenting on the finer points such as what to wear and how to follow up.
Simultaneously the 76 guest interviewers received an outline of the afternoon's schedule from Katie Cookingham Dugan '92 organizer of the Mojo workshop and a career counselor in finance & management consulting, and Hamilton Director of Human Resources Steve Stemkoski, who outlined interviewing strategies.
President Joan Hinde Stewart offered a few of her own suggestions, reiterating that students must "go beyond buzzwords" to communicate what they can offer a potential employer. Students responded positively to the advice during the panel session. "It was really helpful to hear from panelists with a strong base of experience" said Susannah Parkin '13 who is hoping to hone her skills in preparation for upcoming job interviews this spring. Liz Amster '13 agreed, appreciating the opportunity to learn more about "the mindset of an interviewer" so that she could better approach future interview situations.
After the panel, students split up to complete mock interviews and small group discussions. The mock interviews were 30-minute one-to-one interactions between the Hamilton students and a wide array of Hamilton employees, faculty and alumni as well as more than 40 professionals from the local community. In total, 76 interviewers gave the 117 participating students the chance to practice interviewing in a face-to-face setting. While speaking, students were challenged to establish rapport with their interviewers while maintaining positive communication both verbally and non-verbally.
Overall, Evans was pleased with the event and the enthusiastic turnout. Hamilton is one of the few colleges anywhere to run a program like Interview Mojo, and the slots for the program filled up within 72 hours of it being announced. For those who missed the opportunity, the Career Center's doors are open for students wishing to set up mock interviews with staff or peer advisors.