Career Center's Peer Advisors Take on Expanded Role
---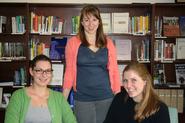 Members of the Hamilton College community see tangible development on campus every day, especially, this year, while walking past the future site of the Wellin Museum of Art. Students with an ear to the ground may also witness steady internal rebuilding of campus institutions like the Career Center. This year, Career Center leaders are in the process of planning steps for the Center to become "best in class." As one of their measures, they hope to expand the role of peer advisors.

"Historically, they started as simply editors," said Heather Wixson, associate director of the Career Center and leader of the peer advisor program. For more than 20 years, peer advisors have helped Hamilton College students correct their resumes and polish their cover letters. This function remains at the core of the role, but Wixson and her Career Center colleagues hope the advisors will begin to assist students with initial steps, including online resources.

Wixson noted that professional Career Center counselors must often explain online tools like HamNet and LinkedIn to students during their appointments. These websites are vital, but giving instruction can take away from counseling time. By guiding students through resources like these, peer advisors will allow them to make better use of their professional counselor's time and start the search process earlier. "They'll be helping their peers to become engaged in career exploration and planning," said Wixson.

Peer advisor Eve Denton '12 even aims to organize a LinkedIn workshop before the end of the year. She currently enjoys leading students through the creation of their own LinkedIn accounts and urges its use to all. "It's a great way to stay in touch with bosses you don't want to add on Facebook," Denton recommended.

Along with an increased focus on internet resources and training, peer advisors will be expected to perform more outreach for the Career Center among the Hamilton College student body. In order to do this, the peer advisor team may see a hike in membership numbers. "We're hoping, starting next academic year, to have up to 25 student advisors," said Wixson. This growth will allow the team the opportunity for more outreach and a more diverse representation of student academic interests and extracurricular activities.

"It's about putting a personal face on the Career Center," said peer advisor Elly Field '13. Students almost always connect with peer advisors before they have appointments with anyone else at the Career Center, so a peer advisor's ability to settle students' nerves and spark their career planning momentum is crucial. Field has found it especially rewarding to work with underclassmen to "set them on the right road early."

"It's interesting to have them come in with a much rougher resume and redirect them a little, but also encourage them to continue what they're doing well," Field explained. She looks forward to receiving updated resumes from students who have vastly improved. This peer-to-peer connection fosters confidence on both ends: student advisees benefit from useful guidance and peer advisors see the fruits of their work. The peer advisors all take pride in the service they do for their fellow Hamilton students.

Wixson hopes the peer advisors will continue to be models of excellence for their advisees. She looks for students with maturity and an interest in helping other students excel, and, of course, their own flawless resumes and cover letters. "Excellent materials will get you far," Wixson concluded.