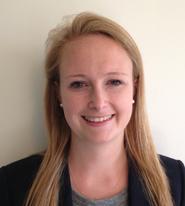 When Caroline Clarke '14 was choosing a topic for her senior thesis, she intended to write about the Millerites. She never expected that she would research the Shakers as well. However, with the help of Christian Goodwillie, Hamilton's director of Special Collections and Archives, Clarke fused the two research topics into one paper, titled "The Advent of the Disappointed: Why the Millerites joined the Shakers and why they quickly left."
Clarke's research paid off when she won the Donald Durnbaugh Starting Scholar Award from the Communal Studies Association. The award is meant to "encourage and recognize authors new to the field of communal studies," according to the Association's website. Clarke's paper is also under consideration for publication by the CSA.
Clarke's interest in the Millerites stemmed from a course that she took with Professor Douglas Ambrose in the spring of her first year. While she enjoyed many of the topics covered in Ambrose's "Christianity in America" course, she was "especially intrigued" by the Millerites, who were followers of the teachings of William Miller. When the time came to choose a research topic, Clarke knew she wanted to study the group.
"I expressed my interest in studying the Millerites for my thesis during a seminar that I took with [Christian Goodwillie] and Professor Ambrose," Clarke said. "Though I had not planned to research the Shakers as well, Christian informed me that Special Collections had a ton of primary source documents from the Shakers that discussed the conversion of the Adventists, another name for the Millerites, to Shakerism."
William Miller predicted that the second advent of Christ would occur in 1843; when his first prediction proved incorrect, he predicted two subsequent dates in 1844 that would usher in the second coming of Christ. Ultimately, Miller lost his following. While many of these individuals went on to found the Seventh Day Adventists, according to Clarke a "surprising number" of former Millerites became Shakers.
The Special Collections, which are Hamilton's collections of rare books and other source materials, allowed Clarke to delve into a topic that had never been researched previously.
She expressed her gratitude for Goodwillie's assistance, stating, "Without Christian's help and guidance, I would not have had the unique and amazing experience of studying materials that had been previously untouched."
Clarke began her research by examining a newspaper written by a former Millerite. From there, she studied every correspondence and journal entry from relevant Shaker villages, a process she described as "a ton of work, but so worth it."
Clarke, of Larchmont, N.Y., graduated in May with a major in history and minors in math and government. She recently began work as a kindergarten teacher at Success Academy Charter Schools in Harlem, NY, where she says the oral communication and writing skills she learned at Hamilton help her tremendously.
"Though I teach 5-year olds, every word that you say to them must be meaningful and purposeful, which is where my Hamilton education really comes into play," she explained. Her long-term goals include working with a nonprofit to advance education.