Students Strive to Improve Health Care in Tanzania
---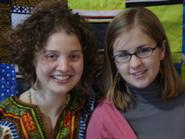 The debate over health care is not solely bound to the United States. Neither is it confined to migration via land – medicinal issues wash ashore on continents like Africa. In the spring, Caroline Davis '11 and Laura Gault '11 were awarded a Davis Peace Project Fellowship program grant amounting to $10,000. They spent it on a research project titled "Empowering the Hadzabe as Agents of Peace: Health for Cultural Preservation." Its goal to devise a strategy to improve healthcare in the Hadzabe communities of Tanzania. They believe promise lies therein for mobile health care labs and improved ambulatory care during pregnancy complications.
Davis Projects for Peace is in its third year. The program encourages undergraduates at the American colleges and universities in the Davis United World College Scholars Program to design grassroots projects that they will put into operation over the summer. Throughout their field work, Davis and Gault have received guidance from Visiting Assistant Professor of Women's Studies Marla Jaksch and Professor of Government Stephen Orvis.

The students hope to find the best means of attaining better health care for the Hadzabe, an indigenous semi-nomadic group of about 1,500 people who inhabit the Yaeda Chini Valley of Tanzania. After Tanzania gained its independence from Britain, President Julius Nyerere implemented ujamaa, a philosophy that emphasized unity over ethnic segregation. His desire to establish peasant and worker communities eclipsed the needs of the Hadzabe, who were eventually forced to become farm collectively. "This structure failed because western paradigms of development were incompatible with [their] way of life," Davis said.

So many of the Hadzabe returned to their hunter-gatherer way of life, but with much less land to call their own. The government considered them "primitive" and evicted them from their residence near Ngorogoro Crater, which now reaps a tremendous profit as the "eighth world wonder." The land on which they live lacks the resources that were once available to them, so their nutrition suffers.

"Hadzabe youth often travel to towns for school, and they no longer learn all of the indigenous knowledge surrounding traditional medicines," Gault said. "Hadzabe elders recognize the need to combine both traditional and outside medicines." The students hope to find a way to reconcile the two so as not to rely too much on outside sources of health care, like the nearby Haydom Lutheran Hospital. It provides free services, but transportation is difficult to come by. They also have a hard time paying for food and lodging at the hospital because they normally trade things like jewelry rather than acquire or spend money.

During the course of their stay, Davis and Gault discussed health issues with the communities, local health officials, indigenous rights organizations, and governmental officials. The Hadzabe are interested in forming a mobile health dispensary which would provide the communities with medications for common illnesses. It would be a mix of traditional medicines and western medicines.

Gault feels that the first step is to get the Tanzanian government's attention. "We hope to encourage government officials, missionaries, and NGOs to stop for a moment and actually listen to the true voices of the Hadzabe," she said. She first visited in 2006 and says, "I left Tanzania knowing I would be back." As a double major in French and World Politics with a concentration in Africa, Gault has had the opportunity to craft a very interdisciplinary course load. This fall, she will study abroad in Niamey, Niger, as a student in Boston University's International Development Program. Then she will participate in Hamilton's Washington, D.C. program. Her impressive list of accomplishments (including prospective internships at government agencies) will help her pursue a career dealing with United States Foreign Policy toward Africa.

Davis has had a longstanding interest in global public health. She created an interdisciplinary concentration titled Social Justice, Peace, and Development for her purposes. "I see health care as a fundamental human right and an urgent global priority," she said. She acknowledges that while some of the Hadzabe techniques work, traditional medicine cannot cure maternal and infant mortality or tuberculosis.

This fall, Davis will study abroad with the School for International Training's Development, Health, and Society program in Kenya. Someday she hopes to work as a public health professional.

Despite the sickness and frailty of an indigenous people deprived of adequate care, the students saw that many community members displayed surprising fortitude and optimism. They both loved talking to the women, especially. "The Hadzabe women are very strong, assertive, and enthusiastic," Davis said. "It has been wonderful to work and learn from them."

Davis is a graduate of Choate Rosemary Hall and Gault graduated from Newton North High School.