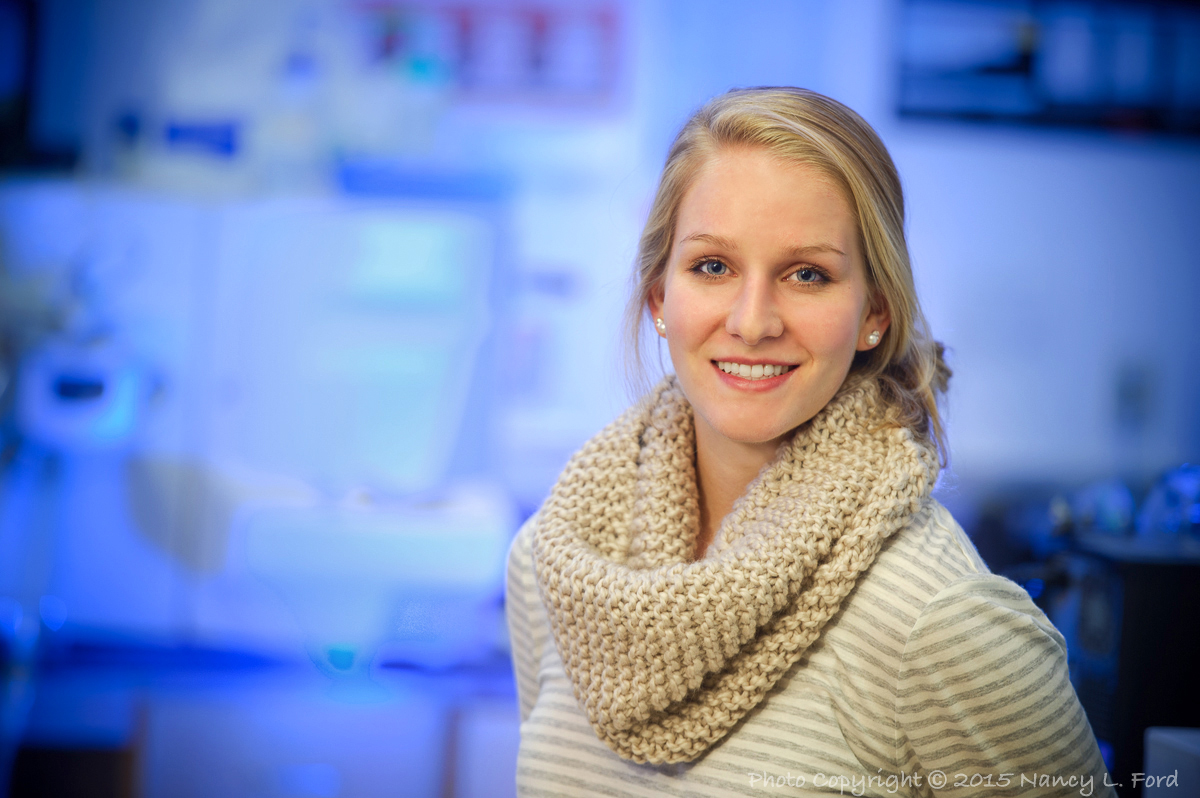 Many of us have experienced a technological glitch, whether the TV isn't responding to the remote, or the dishwasher is starting on its own. While such glitches are typically an inconvenience or annoyance, when the machine has the potential to detect life-threatening medical conditions, the stakes are higher. During her time at Mass General Hospital (MGH) this summer, Catherine Oglevee '15, a chemistry and mathematics double major, discovered first hand that no matter how advanced a machine may be, none are immune to malfunctions.
Highly specialized and advanced equipment, like MRI, mammogram, X-ray, and CT scanners, use strong magnetic fields and radio waves to capture images inside the body. These images are then used by doctors to diagnose and track patients' conditions. However, the Department of Radiology at MGH was experiencing a strange phenomenon; somewhere between being captured and being delivered, occasional images would simply vanish.
The image loss problem was significant, considering that each image shows a unique snapshot of the body, so Oglevee was hired to work with Dr. Oleg Pianykh, assistant professor of radiology at MGH's Harvard Medical School. Oglevee joined the team in June and spent the next month and a half collecting and compiling data from the various imaging machines.
"My responsibility was to figure out why [the image loss] was happening and implement a fix," she explained. To detect a pattern, she cross-referenced the number of images sent with the number that was supposed to be sent to see if they matched. "It was neat to apply the statistical analyses and tools that I've learned here to real life situations," she added.
Through her work, what she found was that as the image count went up, so did the likelihood of losing a portion of the data. For example, mammograms only have 12images, so the likelihood of one being lost is small, and its absence is noticeable. However, X-rays and MRIs have thousands of images, complicating the task of detecting image loss exponentially. After discovering the problem, attempting to send a large amount of data very quickly, MGH's technicians were able to create a patch that checks the number of images sent and makes sure they are all delivered.
Having conferenced with other hospitals, MGH discovered their problem was not unique. Oglevee and Pianykh published a paper on the image loss and the completed patch, which they submitted in August to the Journal of Digital Imaging, a prominent publication for radiologists and radiology technicians. The paper was reviewed and reformatted before finally being published by the journal in mid-December, and other hospitals are now able to implement the patch as well. In fact, Oglevee is notified whenever her article is read or referenced by someone in the field, "It's thrilling to know that others are using the results of my summer work," she said proudly.
Oglevee is grateful to her mentors at MGH for the opportunity to present her findings to the MGH Department of Radiology administrators and for their expectation that she submit an article for publication. Additionally, she acknowledged that due to her Hamilton education, she was more than ready for the challenges of her summer work. "The analytical, critical thinking, public speaking and scientific research skills learned from my Hamilton professors prepared me very well," said Oglevee.
She is also grateful to Hamilton for offering research opportunities, valuable experience that is often reserved for graduate level students. Two summers ago, Oglevee worked on inorganic sol-gels with Professor of Chemistry Karen Brewer, a project she is now continuing as her senior thesis. Having background in research helped Oglevee receive her internship and honed her interest for future work.
She was recently one of five students selected to participate in Hamilton's "A Day in the Life of a Resident" program at St. Elizabeth's Medical Center in Utica. "I got to get my feet wet in a number of different medical and surgical specialties, and I liked the aspect of working in a teaching hospital," Oglevee commented. "Although I'm not exactly sure what type of physician I want to be, I know I want to be a specialist of some sort, working in an academic medical center where I do patient care as well as research" she continued. Oglevee plans to work at MGH again next year, while preparing for the MCATs and becoming the first in her family to apply to medical school.