CBS This Morning to Feature Isserman and Walter Cronkite IV
---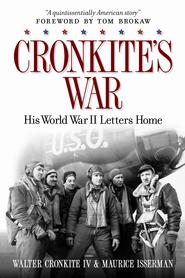 CBS This Morning Saturday will feature an interview with Publius Virgilius Rogers Professor of American History Maurice Isserman and his former student Walter Cronkite IV '11 about their new book Cronkite's War: His World War II Letters Home. The segment is tentatively scheduled to air at 7:45 a.m.
The book is a blend of personal correspondence from Cronkite to his wife, Betsy, between 1943 and 1945; selections from Cronkite's wartime dispatches; and contextual narrative that weaves them into a story of war and love. Twenty-six-year-old United Press war correspondent Walter Cronkite was sent to Europe at the end of 1942. He would not be reunited with his wife, Betsy, for nearly three years. In the hundreds of letters he wrote, he chronicled his war experiences, his observations of life in wartime Europe and his longing for his wife. Journalist Tom Brokaw provided the book's foreword. It is published by National Geographic Books.
"A fascinating and informative collection of Walter Cronkite Jr.'s personal World War II letters to his wife, Betsy….[that] interweaves contextual commentary with the letters to create a seamless narrative of his grandfather's thrilling adventures, including bombing missions over Germany, rocket attacks on London, an air assault by glider into Holland, and following Patton's army into the Battle of the Bulge," is how Publishers Weekly describes the book. "A thoroughly enjoyable read, this will enthrall fans of the newsman, as well as students of WWII and the history of journalism," the review continues. Kirkus Reviews describes the book as "an extraordinary journey with the most trusted man in America."
'World War ll made my grandfather the man he was,' writes Hamilton alumnus Walter Cronkite lV in his introduction. 'He was already smart, competitive, and driven, but the war made him tough, worldly, and thoughtful. He was catapulted from a promising but obscure wire service reporter in the Midwest to an internationally famous war correspondent. The war provided the foundation for the rest of his illustrious career. It vaulted him into the top ranks of U.S. reporters.'
Walter Cronkite IV first met Isserman in an adventure writing course offered to first-year students which began with several days of camping and canoeing, a special group within Adirondack Adventure. The group weathered a fairly violent storm while on the lake that became the focus for their initial writing assignment. Cronkite is now an associate editor with CBS News.