Ceremonial Run for the Fallen is Aug. 21
---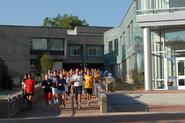 Days after the last U.S. combat forces departed Iraq, a ceremonial run/walk commemorating the 2008 Run for the Fallen will be held on the Hamilton College campus. The free event will begin at the Michael J. Cleary '03 Tree on Saturday, Aug. 21, at 9 a.m., adjacent to the Campus Road side of the Siuda House, Hamilton's Office of Admission and Financial Aid. The community is welcome to participate in this special remembrance of all the soldiers who have lost their lives in Iraq during Operation Iraqi Freedom.
Run for the Fallen was an apolitical 4,000-mile cross-country relay conducted during the summer of 2008. Runners started in California on June 14 and planted a flag and personalized placard at each mile marker in honor of an individual fallen service member. They completed their run at Arlington Cemetery.
The run was organized by Hamilton College alumnus Jon Bellona '03 and other alumni to remember their Hamilton classmate Michael Cleary '03 and all other service men and women who died in Iraq.
Those interested in participating in this year's ceremonial run should not be concerned about pace or distance as runners and walkers are welcome. The run/walk will be the length of the campus.
For more information, visit:
www.runforthefallen.org
or contact Frank Perretta at fgperretta@verizon.net.