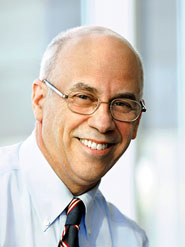 Dan Chambliss, the Eugene M. Tobin Distinguished Professor of Sociology, recently discussed "What Liberal Arts Colleges Do" at Muhlenberg College in Allentown, Pa. His keynote address was presented at inauguration ceremonies in honor of new president John Williams.
In addition, Chambliss has received the American Sociological Association's (ASA) prize for Scholarly Contributions to Teaching and Learning in recognition of his book, How College Works (Harvard University Press, 2014), co-authored with Christopher Takacs '05. According to the ASA website, the annual award recognizes "scholarship that advances teaching and learning by contributing insights into the educational process, presents innovative teaching methods, and fosters significant, long-lasting learning."
Also, a Chinese translation of the fifth edition of Making Sense of the Social World, was published this summer. The research methods textbook, co-authored by Chambliss and Russell Schutt, was first published in 2003 by SAGE, an independent academic and professional publisher.