Chambliss Lectures on How College Works at Trinity
---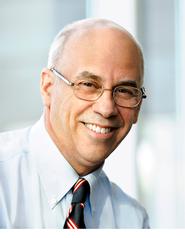 Hamilton College Professor of Sociology Dan Chambliss gave a talk on Sept. 26 at Trinity College on how to maximize the value of a liberal arts education. Chambliss is co-author of How College Works: What Matters Most for Students in Liberal Arts Institutions with his former student Christopher G. Takacs '05. The book has been awarded the Virginia and Warren Stone Prize of Harvard University Press as its best book of the year on education and society.
Trinity College's Center for Teaching and Learning sponsored the talk. According to Trinity College's news site:
"… Chambliss emphasized the importance of interaction between students and faculty, and the need for students to forge close relationships with fellow classmates. … 'What's relevant for students is an adult to talk to, someone who can be outside the official advising system,' he said. For example, he pointed out that one activity that can have an immeasurable effect on students is being invited to a faculty's home for dinner. 'When students at liberal arts colleges were asked whether they would have chosen their school again, 9 to 15 percent said they were more likely to attend that college simply because they had been invited to a professor's home for a meal. It can have that kind of impact,' Chambliss said. 'A minor investment of time can be a transformative experience and really can make a big difference.'
"Chambliss spoke about other experiences that can make a liberal arts education memorable and beneficial. For example, he noted, a student having a one-on-one conversation with a professor can not only change the student's thought processes but can change the way he or she thinks about writing in ways that having the student simply attend a writing center cannot….
"He left his audience with three thoughts: First, students should pick teachers not topics. 'Pick people who are going to motivate you and turn you on,' he told the students. Second, students should try to venture outside of their comfort zone. And lastly, if students are having a bad college experience, it could be that they're hanging out with the wrong people."
For a complete report on Chambliss' lecture, go to the Trinity College news site.