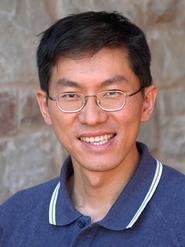 An article by Associate Professor of Biology Wei-Jen Chang, along with six Hamilton students and recent graduates, appears in the May issue of Molecular Phylogenetics and Evolution. Elisabeth MacColl '16, Matthew Therkelsen '12, Tshering Sherpa '16, Hannah Ellerbrock '15, Lily Johnston '15 and Ravi Jariwala '13 collaborated with Chang on "Molecular Genetic Diversity and Characterization of Conjugation Genes in the Fish Parasite Ichthyophthirius multifiliis."
The article describes the first molecular toolkit developed by Chang's group to characterize different geographically isolated strains of Ichthyophthirius multifiliis, a protozoan parasite commonly known as Ich, that causes white spot disease in freshwater fish.
According to Chang, the article also "reveals the discovery of the heterogeneous composition of 14 somatic SNP sites, providing novel evidence that I. multifiliis reproduces sexually."
"However," he said, "the loss of many conjugated-related genes indicates that the mechanism of sexual reproduction in I. multifiliis differs from that in other closely related parasites."
Researchers from Cold Spring Harbor Laboratory and Cornell University also contributed to the article.