Archaeology Field School Co-Founder Professor Charlotte Beck Retires
---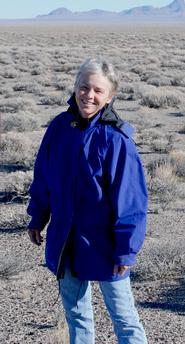 After 28 years as a professor of archaeology at Hamilton College, most people would be content with taking some time off. Not Charlotte Beck. "Just because I've retired from teaching doesn't mean I've retired from archaeology," she said. Beck is currently on sabbatical before officially retiring at the end of the 2012-13 academic year, and is living in Taos, New Mexico, where she is finalizing an upcoming monograph that she has co-authored with her husband, Leavenworth Professor of Anthropology Tom Jones.
Beck and Jones study the Great Basin, an area in the western United States encompassing most of Nevada, as well as portions of western Utah and eastern California. The subject of their upcoming monograph is a project in the Bonneville Basin, home of the famous salt flats, focused on artifacts from the early Holocene Epoch—more than 11,000 years ago. The period was an important one in the Great Basin's history, Beck said, as it was a time of much environmental change, which forced humans to adapt to new conditions.
While the thousands of miles that separate Beck's fieldwork from her academic career may seem surprising, Beck offers a simple explanation of why she came to Hamilton. "That's where the job was!" she said, laughing. Both she and Jones were alerted to the opening at Hamilton by Donald K. Grayson, Jones' thesis advisor, who was once a professor of archaeology at Kirkland College.
In a certain light, the Kirkland connection appears inevitable, as Beck was the first full female professor of archaeology in Hamilton's history. There were times early in her career when she felt her status acutely, and Beck remembered that "male professors only had to lose respect, while female professors had to work hard to gain respect." Since beginning her career at Hamilton, however, Beck has witnessed the de-stigmatization of female professors, and has noticed a corresponding change in her students. "When I first started, most of my students were male," she said. "Now they're mostly female."
One of Beck's lasting contributions to Hamilton's archaeology program was the establishment of a field school that she ran for 15 years with Jones. The two professors took a small group of Hamilton archaeology students with them into the field for six to eight weeks every other summer in order to give them practical archaeological experience. Many former field school participants were not used to living in the field, and many of them, Beck said, had never even been to Nevada.
The transition from the Hill to the middle of the desert was occasionally difficult for the students to manage. Beck was primarily responsible for teaching them the practical side of the archaeologist's trade, but often the first step was a lesson in desert common sense.
In addition to making sure that students "bathed in sunscreen" and carried sufficient amounts of water, Beck occasionally had to remind them of even more basic rules. "People did not seem to understand that they had to close the doors of the [field school's] van completely," Beck said. With a three-hour drive to the nearest town from the dig site and very little shade, a dead car battery was potentially a very dangerous problem. Despite the sharp learning curve, however, Beck feels that the students emerged with a very valuable experience. "I don't know that there's ever been a student who did not have a good time on the field school," she said. "Well, maybe one or two," she corrected herself with a laugh.
Beck also gained some valuable experience in her own right by working with Hamilton students, who she praises as "equal to master's students," and "very sophisticated." She helped pioneer the concept of professor/undergraduate co-publication in the archaeological field, especially in the wake of a 2002 Journal of Anthropological Archaeology article that she co-authored with four students who have since gone on to professional careers in archaeology. "I don't think I've ever been so proud," Beck said.
Though she started out with a very professional teaching demeanor, Beck soon began to relate to her students on a personal level. As with so many professors at Hamilton, the divide between Beck's academic and personal lives soon began to erode. For herself and Jones, "our social life was our students," she said. Yet the impact of her relationships with Hamilton students often went beyond personal affection. "They humanized me," she said. Indeed, it appears that Beck's students have taught her just as much as she has taught them.