Chelsea Dilley '10 Interns with RAINN
---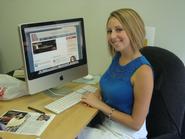 Every two minutes, someone in the United States is sexually assaulted, according to the Rape, Abuse and Incest National Network (RAINN). This statistic is both disturbing and humbling – in the time it takes you to brush your teeth at night, yet another person has been raped, harassed, or damaged in a number of emotional and psychological ways. At the same time, this figure makes us feel powerless – what can anyone do about a crime that might be occurring hundreds of miles away? Chelsea Dilley '10 is working at RAINN this summer, and her efforts there prove that even small contributions to a cause can span the distance between a bystander and a victim.

RAINN is the nation's largest anti-sexual assault organization. It operates the National Sexual Assault Hotline and publicizes its free, confidential services. RAINN also educates the public on sexual assault issues and improve the immediacy and quality of care to victims.

As an intern, Dilley works in the communications and marketing department. She helps organize public service announcements that star celebrities like Kevin Bacon and Catherine Keener. Other famous supporters include actress Rachel Bilson and television host Ty Pennington. RAINN's advertisements and campaigns circulate through major cities and businesses.

One of Dilley's chief responsibilities is to read applications for the RAINN Speaker's Bureau, a program that puts survivors of sexual assault in the arms of the community through a generous re-telling of their story. Victims or their friends and family speak to schools, participate in magazine interviews, or share their story through the newsletter or website. RAINN not only looks for women and men who have successfully taken legal action against their attackers, but they also are careful to choose only people who have taken at least a year to recover from their physical and emotional wounds. Dilley's job is to pair a reporter with each speaker.

Because women are four times as likely as men to be sexually assaulted, Dilley and other RAINN members promote educational programs for college-aged women, who are especially prone to abuse. Dilley hopes to bring more awareness to Hamilton's campus.

"It's sort of a taboo subject, and that needs to change," she said.
Although she is a physics and math double major, Dilley feels drawn closer to the non-profit sector each day. "I like that through my work, I can immediately see this organization making a mark."

Last summer, Dilley worked for the World Security Institute in research analysis. This year, her internship is unfunded, so she needed to find a source of income so that she could accept the exciting offer. She applied for and received the Joseph F. Anderson Internship Fund, which provides stipends to students who wish to accompany their academic studies with a real-world, career-based experience. It must be an unpaid position, and the Fund is open to students in all majors.

Dilley says she likes the idea of working for a non-profit organization because it expands people's understanding of a narrow issue. She also works well in face-paced and high pressure environments, where deadlines are always pending and members are wired for arduous work that is always rewarding.