Chelsea Stone '10 is Named Hamilton's Sixteenth GOLD Scholar
---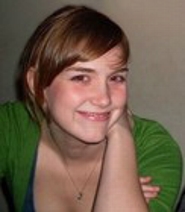 High School: Niskayuna High School
Majors: Chinese & Asian Studies
Campus Activities: Cross Country, Track & Field
Last Movie Seen in Theaters: Sex and the City
Favorite Movie: Clueless
Favorite Song: Tomorrow by Morrissey
Favorite Place You've Lived on Campus: Bundy West
Last Book Read: A Walk in the Woods by Bill Bryson
Favorite Book: Jane Eyre by Charlotte Bronte
Hobbies/Interests: Running/Hiking/Exploring
Favorite Place on Campus: the locker room
Favorite Campus Dining Location: Commons
Fondest Hamilton Memory: Sophomore spring semester – the first day we could finally lie in the grass on Minor Field after a long winter
Quote: "Love many, trust few, always paddle your own canoe."
Thanks to the generous support of young alumni, Hamilton is pleased to name Chelsea Stone '10 of Niskayuna, N.Y., as its 16th GOLD Scholar. Chelsea recently sat down to reflect on her Hamilton experience, and here's what she shared.
Where did you grow up?
Niskayuna, New York – It's a small suburb of Albany, right on the Mohawk River. It may still be a couple hours from the Adirondacks, but I spent most of my time running, biking or walking the trails and exploring the forest preserve by the river. It's safe to say that I feel at home in the woods. I also spent plenty of weekends in Albany at the state museum or restaurants and shops along Lark Street, so I like to escape downstate to the city when I can, too.
What's your family like?
My dad's a family physician, my mom is an elementary school teacher, and altogether I have four siblings. I have two older sisters, each of whom has her own family already – which means I have two nieces and a nephew and, probably, a lot more someday soon. I have two younger siblings, a sister and then the youngest, my brother. I'm probably closest with my brother and the most like my dad. I might have a big family, but somehow it never feels that big since it's so hard to get us all in one place at the same time. We all make the effort, and it always makes Thanksgiving and Christmas interesting and stressful, but mostly incredibly fun.
What were your favorite activities in high school?
In hindsight, I loved high school. I've been involved with running since 8th grade, when I decided that I had gotten in pretty good shape from running back and forth to school every day (carrying my backpack with me helped). By spring semester of my freshman year I won the opportunity to go Penn Relays – only to shatter my femur two days before the race. I spent the next year and a half affectionately dubbed "gimpy" by my teammates. Despite this setback, running pushed me to excel, only adding motivation in other parts of my life when I was injured. By my senior year, most people just knew me as "Chelsea…the really smart girl."
I've been fortunate to surround myself with very successful people, which always contributed to a sense of urgency to succeed – and that's just the kind of encouragement that drove me to Hamilton. I'm especially grateful for the teachers I've had – too many even to name here, who not only encouraged me during class but spent hours after class or after school chatting with me about everything from schoolwork to the big "life" questions.
How did you discover Hamilton?
I first heard about Hamilton from Niskayuna grads who attended, and my dad's patients chimed in to sing its praises. So, when my parents forced me to go on college visits – Hamilton was one of the first, especially being close to home. I say "forced" because although I was excited about applying, I had almost no idea about what I wanted. One Hamilton visit, however, prompted me to visit again, after which I liked it even more! After the second time around, I stayed overnight with a cross-country runner who lived in Bundy West. Take note Admission Office – I think prospective students should stay with Bundy residents more often, because it was an extremely persuasive visit.
Do your first impressions of the College remain true today?
My first impression of Hamilton, beyond the natural beauty of the campus, was the College's homey feel. It may be geographically divided according to old Kirkland and Hamilton boundaries, but the campus was easily comfortable and, despite architectural discrepancies, had a cohesive feel. After having lived in Minor, Bundy and now Dunham – I can safely say that feeling holds true. Whether I'm in Commons, the fitness center, Café Opus or Minor Field, these places make the Hamilton campus what it is and nothing feels out of place.
In addition to places on campus, I was most impressed with Hamilton students. I looked around and saw people strolling down Martin's Way chatting with friends and saw several rushing off to class. They run the gamut of fashion, some dressed like they have an interview and others like they didn't bother getting dressed at all (not the streaking team). The variety of clothing, from laid-back to urgent, holds true today and underscores the blend of students on the Hill. We're driven and determined. We work toward big goals, but also find ways to relax and remember what's really important in life — focusing on friendships with our fellow Hamiltonians.
Describe three defining elements of your time on the Hill?
1. My sophomore year. I imagine many graduates of the last decade would probably agree - sophomore year in Bundy is a lot of fun. You're not a freshman so you feel more comfortable in your own skin. You don't have to worry about a roommate, but at the same time you can live in close quarters with all of your best friends – and if they weren't best friends to begin with, they probably will be by the end of the year.
2. My experience as a college athlete. I love being part of a team. It gives my life structure (I'm not very good at time management by myself), provides me with goals that aren't academically oriented (for once) and simply, but most importantly, running is central to my life and who I am. The team has helped shape my identity as a Hamilton student, given me great friends and helped me to gain greater confidence and satisfaction.
3. My experience abroad. Even away from the Hill, Hamilton students are still Hamilton students. I attended a Hamilton program in Beijing with 15 other Hamiltonians, and we confirmed that we are, indeed, a special breed. Having the Hamilton support system in Beijing with me 7,000 miles from the Hill was incredible. Adding to our pride was the opportunity to meet alumni currently living in Beijing and reinforced the global nature of the Hamilton experience.
What Hamilton mentors have inspired you?
My two favorite professors so far are Lisa Trivedi and Laura Brueck. I took Living Indian Epics and Becoming Bollywood with Professor Brueck, and I have rarely been so impressed with someone who knew so much and could recall it at length off the top of her head. Class lectures were always full of information and I learned so much – allowing me to shock my Indian friends with my knowledge of Indian culture and history! Professor Brueck helped me to look at a situation and approach it in from a completely different direction, teaching me something new in the process. Professor Trivedi has many of the same qualities. Not only does she have a wide grasp on her field of study, but her insight pushed me to think in ways I never had before. To me that's the most valuable quality in a professor. In addition to their many talents, these professors are brilliant women and offer great models of success.
What have you found most rewarding about your volunteer experiences as a student?
The athletic department runs a program with the Clinton elementary school that sends a few athletes every week to play with the kids during recess or gym class. Perhaps you'd expect me to say this experience offered me an epiphany, but it never really feels much like volunteering at all. Asking me to play a pick-up game of basketball with 4th graders isn't my idea of volunteer "work", it's more my idea of a fun afternoon. And maybe that's what my volunteer experience at Hamilton has taught me. In high school "volunteering" was a crucial activity to add to our resume; it was compulsory for the college checklist. At Hamilton, my volunteer experience has taught me that volunteering is something I can enjoy and learn from. And, at the very least, those Clinton students helped me improve my left-handed lay-up.
What are your plans after Hamilton?
I would love to go back to China. Ideally I would love to find a job in Beijing or Shanghai and work for a few years. The sports industry is exploding in China right now – you walk down the street and see kids wearing Rockets jersey. In Hangzhou (a little touristy village outside of Shanghai) the village square has a giant projector screen that broadcasts Lakers games, and if you tell a Chinese guy in a bar you're from New York, he'll probably want to talk about the Knicks with you. Of course that's not the only industry booming in China right now, and certainly not the limit of my interests.
Most of my background is in government/history, so I'm also considering looking into jobs at NGOs or think tanks, and I've looked into some work the Clinton Foundation is currently doing in public health issues in China, such as AIDS and STDs. If I can't find work, I'm also looking into graduate programs, especially a master's program in Nanjing run by Johns Hopkins University, in which I would study a government-related topic for two years (i.e. China's Peaceful Rise, The Olympic Effect on China, etc.). Law school is also a very real option. Growing up, a lot of my friends were (are) Asian-American, and so the immigrant experience in America has long been a subject of my concern. I'd love to use a law degree to help recently - arrived immigrants from Asia overcome obstacles they encounter and start new lives here in America. Even though I clearly can't say for sure what I'll be doing in 2010, I'm looking into everything that comes my way, and I'm hoping to find an opportunity that catches my interest over the rest.
What advice or perspective would you share with alumni?
One thing my Beijing experience made very clear to me is the influence of Hamilton off the Hill, even as far away as Asia. The great thing about my peers and friends is that we will always have Hamilton in common. As we graduate and go on to different graduate schools, jobs, continents, we'll inevitably lose touch for periods of time, but whenever we run into each other, or whenever you want to send a Facebook message, you know you can rely on them to be the same great people they were at Hamilton. And even for those Hamilton alumni I never knew during my time on campus, it doesn't matter. A fellow Hamiltonian is a fellow Hamiltonian, and I'm happy to have the opportunity to get to know anyone who enjoyed Hamilton even half as much as I did.
Gold Scholars is an initiative supported by the Annual Fund, which has always provided direct support for the College's most important current priorities, especially scholarship aid. Starting this year, gifts from the GOLD Group – Graduates of the Last Decade – will specifically support students on campus. With each $15,000 increment collectively contributed, the College will select a student as a GOLD Scholar for 2008-09.