Chicken Soup for the Latino Soul
---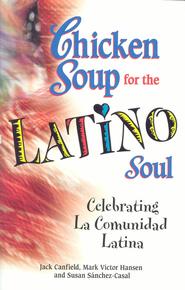 Associate Professor of Hispanic and Women's Studies Susan Sanchez-Casal is co-author of
Chicken Soup for the Latino Soul,
with Jack Canfield and Mark Victor Hansen (Health Communications, Inc., August, 2005). The Chicken Soup series features inspirational, motivational and uplifting stories. Since the first Chicken Soup for the Soul book, there have been 80 million copies sold in 65 titles and 37 languages.
In addition to editing the volume, Sánchez-Casal wrote two of the stories in Latino Soul, "Don't Do It Willy!" and "Vengo del mar." Sánchez-Casal says, "While respecting the inspirational formula, Latino Soul tells stories about Latino histories and experiences in the U.S., stories that very much need to be told and listened to. It speaks to the difficult and miraculous experiences of our daily lives, in a way that also brings visibility to and celebrates the diversity of Latino life in the United States today."
Latino Soul tells "American" stories--about Latino people struggling during the Great Depression, surviving breast cancer, coping with personal loss, coming to terms with an alcoholic parent, overcoming painful childhood experiences, and using the pain of life's hardships to live a more conscious and spiritual life. But within these stories is the rarely visible fabric of Latino life in this country--the people who survive the Great Depression are Puerto Rican immigrants to New York, and the Latina woman who survives breast cancer relies on the healing practices of curanderas as she recuperates from surgery. Some of the hardships that are described in the book are fighting racism and assimilation, personal struggles with language discrimination, the loss of cultural and racial identity and the journey toward cultural, ethnic and racial pride.
Sánchez-Casal says "I think I am making a real contribution with Latino Soul, because it's a book that is accessible to everyone who can read, regardless of education level." And while she is especially pleased to make this contribution to Latino/a readers, she also believes that it's an important book for non-Latinos who are interested in getting Latino lives, histories and storytelling on their radar.
Reviews
"
Chicken Soup for the Latino Soul: Celebrating La Comunidad Latina
is a collection of powerful stories and poems written by people from all over the country. They are stories about family, loyalty to our parents, the wisdom of our grandparents, the deep sense of faith in the community, and so much more. The stories will make you laugh, they'll make you cry and if you're like me, you'll finish the book with an even greater sense of Latino strength and pride"
- Emmy award-winning journalist Catherine Anaya,
Latino Perspectives Magazine
, September, 2005