Choir to Present Musical Carousel
---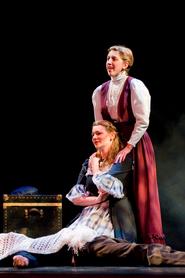 The Hamilton College Choir presents Rodgers and Hammerstein's Carousel in Wellin Hall on Friday, Feb. 5 through Sunday, Feb 7. Performances are Friday and Saturday, Feb. 5 and 6, at 8 p.m., and Sunday, Feb. 7, at 2 p.m.

Carousel takes place in a Maine costal village toward the end of the 19th century. A carefree carnival worker, Billy Bigelow, captivates and marries a young millworker named Julie Jordan. Billy loses his job just as he learns that Julie is pregnant. Desperate to provide a decent life for his family, Billy reluctantly agrees to being an accomplice to a robbery. Caught in the act and facing the certainty of prison, Billy takes his own life and is sent "up there." Billy is allowed to return to earth for one day 15 years later where he encounters the daughter he never knew. His daughter is a lonely and friendless teenager, whose father's reputation as a thief and a bully has haunted her whole life. How Billy instills in both the child and mother a sense of hope and dignity is a dramatic testimony to the power of love.

The cast includes Cliff Robbins '10 as Billy Bigelow, Andrea Wrobel '13 as Julie Jordan, Chelsea Wiggins '12 as Carrie Pipperidge, Reva Narula '10 as Mrs. Mullin, Sarah Andrus '12 as Nettie Fowler, Michael Breslin '13 as Enouch Snow, and Andrew Steele '13 as Jigger Craigin.

With music by Richard Rodgers, book and lyrics by Oscar Hammerstein III, Carousel is based on Ferenc Molnar's Play Liliom as adapted by Benjamin F. Glazer. The musical has original dances by Agnes de Mille. This fully staged production is directed by G. Roberts Kolb and features set and lighting design by Bill DiPaolo. Leslie Norton provides choreography.

Tickets for the performance are $8 for adults/$6 for senior citizens/$3 for students. All seats are general admission. For more information or to purchase tickets, call the box office at 859-4331 or visit www.hamiltonpa.org.