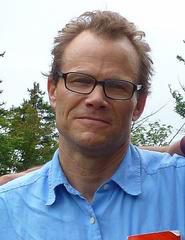 "Private institutions have been at the forefront of the cause since Pell funding was stripped in 1994," Doran Larson, the Walcott-Bartlett Professor of Ethics and Christian Evidences, said in a Chronicle of Higher Education article on reaction to President Obama's pilot program to make some prisoners eligible for Pell Grants. "What the Experts Say About Offering Pell Grants to Prisoners"* interviewed Larson along with others involved in prison education programs at Cornell University and John Jay College of Criminal Justice.
Larson leads the Attica Writer's Workshop at the Attica Correctional Facility and teaches at the Mohawk Correctional Facility near Utica. In his prison writing course at Hamilton, he brings students into the Mohawk Correctional Facility to meet with his prison class. He has also presented the online course, Incarceration's Witness, on prison writing. He is the editor of Fourth City: Essays from the Prison in America, the largest collection ever amassed of essays by Americans writing about their experience of incarceration (Michigan State UP, 2014).
"I'm supportive of this initiative…," Larson said. "I would hope that they would be also simply looking to the expert knowledge and experience of people who have been providing this sort of education." He speculated that "the pilot was probably a political experiment to 'sweeten the pill' of prison education."
According to the Chronicle. Larson felt that more education in prisons could have a 'pacifying effect' on prison life, making a better environment for both prisoners and employees. "People want to keep clean behavior records in order to participate" in educational programs, he said.
The article pointed out that there could be debate over which prisoners should be eligible for Pell Grants. "They don't want to invest in people who are going to be staying in prison for another decade or two," Larson said. "But most people inside the institutions will tell you that long-term prisoners are actually very good students."
* Note: The web link to this article will be accessible only until Aug. 4 for non-subscribers.