Class of 2008 Gift Exceeds $50K
---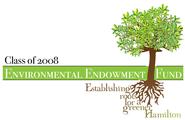 This year's class gift has reached record levels, exceeding $50,000 in contributions from seniors, parents and trustees. With contributions still coming in, senior co-chairs Ned Gilliss and Blythe Winchester are hopeful that the participation rate among seniors, currently at almost 93 percent, will approach 100 percent. More than 97 percent of the Class of 2007 contributed to their senior gift. This is the 15th year that the senior class gift has exceeded 90 percent participation.

The class voted in the beginning of the academic year to direct their gift toward an environmental endowment fund which will generate a yearly grant to be awarded to a Hamilton student or campus organization to fund a campus green project or an environmental research project. The gift will also fund a tree and an accompanying plaque to commemorate the gift.

The tree planting and plaque unveiling are scheduled for Saturday, May 24, at 11:30 a.m. on the main quad between South Dorm and the Bristol Center.

Community members interested in giving to the Class of 2008 Environmental Endowment Fund should contact Associate Director of Annual Giving Dave Steadman '03 at 315-859-4898 or dsteadma@hamilton.edu.