Class of 2010 Senior Gift Campaign Exceeds 97% Participation
---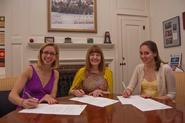 Last month, four hundred and ninety nine Hamilton students walked across the graduation stage in the Margaret Bundy Scott Fieldhouse. With that walk across the stage, those students joined the prestigious ranks of Hamilton College alumni.
In honor of this accomplishment, as well as to give back and thank the College for all it has given them, the Class of 2010 created an Environmental Sustainability Fund as its Senior Gift. The 2010 Senior Gift Committee is proud to announce that of those four hundred and ninety nine class mates, four hundred and eighty five donated to the gift, achieving an astounding 97.2% participation! This exceptional result just barely misses the record set by the Class of 2007 (and puts '10 in third place in the 28-year history of the senior gift).
With the help of generous parents, friends and alumni, the Senior Gift Committee raised over $32,600 for the Class of 2010 Environmental Sustainability Fund. The Hamilton campus will feel the physical effects of this gift every year as its funds will enable the College, faculty and students to undertake a number of projects aimed at ensuring a greener future for those living and working on the Hill. In addition to its impact on campus, the success of this gift also signals that a new generation of alumni is dedicated to ensuring that Hamilton remains an institution of excellence and opportunity where future generations of Continentals will thrive for years to come.