Class Visits Boston Museums to Explore Religion and Art
---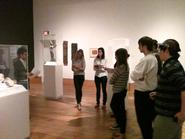 Students in "Religion, Art, and Visual Culture" (cross-listed with Religious Studies and Art History) traveled to Boston for two days in April to explore works of art.
Just after arriving in Boston, students visited the Harvard Art Museums and were given an overview of the Islamic Art collection led by Ünver Rüstem, a Ph.D. candidate at Harvard's history of art and architecture program. The focus was on calligraphy, and the ways that passages from the Quran and Hadith are used in ornamental form on many objects, from plates and bowls, to tombstones and swords. Several of the students went downtown in the evening to visit the studio of photographer/printmaker Robert Siegelman.
The next day was spent at the Museum of Fine Arts and the Isabella Gardner Museum. The Museum of Fine Arts provided an arena to see more Islamic art, and in a different context. Sarah Kelley '12 said that she appreciated "seeing how each museum displayed or explained a ceramic bowl with an Islamic inscription, and how that very bowl may have been interpreted in a variety of ways by its intended viewers in the intended time period." The MFA also provided an opportunity to look at the collection of South Asian devotional images of Hindu deities. Students then had free time to explore the vast collection at the MFA, from Tibetan Buddhist works to modern video art.
The Gardner Museum was fascinating for the newly opened "extension," designed by world-class architect Renzo Piano. This allowed for discussions surrounding the ways museums contextualize objects, sacred and other, and help generate new meanings, oftentimes unintended by the original artists and audiences. Eli Remillard '12 noted that "The contrast between the Gardner expansion and the original building shows how integral the museum structure itself is to the formulation of the museum experience. For the viewer, the museum itself becomes almost as important as the objects displayed inside, in terms of how people interpret objects and their meanings."
Visiting Associate Professor of Religious Studies Brent Plate, the course instructor, said the experience of seeing these works of art firsthand was integral to the course itself. "In an age that praises multimedia technologies, and the abilities to bring the world to our classroom, it is yet important to stand eye to eye with a 1000 year-old carving of the great goddess Durga," he said.
Funding for the trip was made possible by the office of the Dean of Faculty.