Class Visits Home of Alexander Hamilton, N.Y. Historical Society
---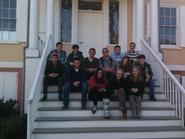 On Saturday, April 7, a group of students enrolled in "The Classical Tradition in American Political Life: Cicero, Jefferson, and Hamilton," a course taught by Frank Anechiarico '71, Maynard Knox Professor of Government and Law, and Carl Rubino, Winslow Professor of Classics, traveled to New York City to visit the New York Historical Society and the Grange, the home that Alexander Hamilton built for himself and his family.
At the New York Historical Society the group received a guided tour of an exhibit titled Revolution!: The Atlantic World Reborn, which focused on the American Revolution, the French Revolution and the revolution in Haiti. While there, the students were also given a brief tour of the museum's holdings related to Alexander Hamilton, which include the pistols used in his fatal duel with Aaron Burr.
The group then traveled uptown for a guided tour of the Hamilton Grange National Memorial. Hamilton's home, built in 1802, fell into decay and was relocated in 1889. It was acquired by the National Park Foundation in 1962. In 2008 it was relocated to St. Nicholas Park, on land originally purchased by Hamilton himself, and it was reopened to the public in September 2011.
After a rewarding day in New York, the group returned to Clinton on Saturday evening.