Classics Department Students Present at 4th Annual Parilia Conference
---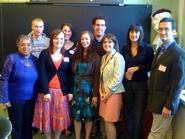 Students and faculty from Hamilton's Classics Department traveled to Colgate University to attend and present at the fourth annual Parilia Conference, highlighting undergraduate research in classics, on April 17. Presenters and topics at this year's conference were Kaitlyn Bishara '09, "Evolution or Revolution: The Influence of the Classics on the Creation of America"; Casey Green '09, "Social Understandings of the Deaf and the Blind in Ancient Greece"; and Cassie Sullivan '09, "Translation in the Classics Classroom: What is Lost and What is Gained?"

Other attendees were Nick Bergmann '10; Chris Bouton '09; Laura DeFrank '10; Audrey Nebergall '09; Casey Quinn '10; Professors Shelley Haley, Chiara Sulprizio and James Wells.

The Parilia Conference on Undergraduate Research in Classics first began in 2006 at Union College under the auspices of a Mellon grant to foster research cooperation among Colgate University, Hamilton College, Skidmore College and Union College. Hamilton hosted the conference in 2007. The next Parilia is tentatively scheduled for April, 2010 at Union College.