Climate Change is Focus of Complex Antarctic Expedition
---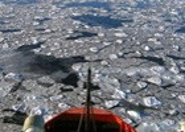 More than 30 scientists from 11 states and four countries, led by Hamilton College Geosciences Professor Eugene Domack, will embark in January 2010 upon one of the most complex interdisciplinary Antarctic expeditions ever funded by the National Science Foundation (NSF). During the two-month trip the scientists will be addressing a significant regional problem with global change implications, the abrupt environmental change in Antarctica's Larsen Ice Shelf System. The expedition is part of the NSF's International Polar Year (IPY) program.

By making use of a marine research platform as well as two helicopters and an undersea remotely operated vehicle (ROV), the team will work collaboratively to answer vital questions with regard to: the stability of the Antarctic Peninsula ice sheet and the remainder of the Larsen Ice Shelf; the response, or contribution, of oceanographic systems to ice shelf disintegration; the climate history of the Peninsula as recorded in ice and sediment core samples; and the biogeography of life in extreme environments.

The helicopters will allow scientists to retrieve ice core samples and deploy geologists to the regional bedrock, while the ship will generate swath maps of the sea floor. The undersea ROV will video and sample the ocean floor. The undersea ROV will video and record the ocean floor. Additional sediment core samples will be retrieved with equipment on the research ship.

As part of the this initiative, Hamilton College has been awarded two related NSF grants for work directed by Domack, the J.W. Johnson Professor of Environmental Studies, and Associate Professor of Biology Michael McCormick. "Our work contributes to the understanding of these climatic changes -- where they are occurring first and with greatest magnitude and impact upon the environment," says Domack.

During his 2004 expedition, Domack and his team discovered an underwater volcano in the Antarctic Sound. In 2005, he returned to study the causes of the collapse of the Larsen B ice shelf. This had been the original focus in 2004 when thick ice prevented access to the area. Using an underwater video sled to map the seafloor landscape during the 2005 trip, the team discovered a cold-vent chemotrophic ecosystem.

In the August 2005 issue of the journal Nature, Domack published the first evidence that the collapse of Antarctica's Larsen B Ice Shelf was unprecedented during the past 10,000 years. Using data collected from sediment core samples in the vicinity of the former ice shelf, Domack and his colleagues concluded that the Larsen ice shelf had been intact but was slowly thinning during the course of the current interglacial period. Since 1987, Domack has taken more than 100 undergraduates from Hamilton and other colleges and universities to Antarctica.