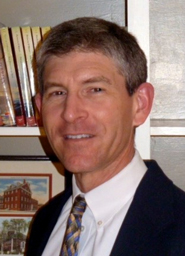 Peter Oppenheimer, section chief of the National Oceanic and Atmospheric Administration (NOAA), will give a lecture titled "Aspects of Arctic Climate Change and Marine Geo-Engineering," on Monday, April 7, at 4:10 p.m., in the Red Pit, KJ. It is free and open to the public and sponsored by the Arthur Levitt Public Affairs Center.
Oppenheimer oversees an office that provides legal counsel to NOAA and other federal agencies — including the Department of State, the Department of the Interior, the Environmental Protection Agency, and the Office of the U.S. Trade Representative — on international environmental and oceans law, particularly the Law of the Sea Convention. Oppenheimer has participated in the negotiation, amendment or implementation of numerous international agreements that address vessel pollution, shipwrecks, ocean dumping, seabirds and marine scientific research, among others. He currently serves as the principal legal adviser on the U.S. delegation to the Arctic Council's working group on the Protection of the Arctic Marine Environment.
Before joining NOAA, Oppenheimer was an attorney-advisor in the Law and Policy Section of the U.S. Department of Justice's Environment and Natural Resources Division. He advised Justice Department officials on legislative and policy issues relating to vessel pollution, shipwrecks, transportation, energy, homeland security, and transportation and served as the principal Environment Division staff attorney on all oceans policy and legislative issues.
Oppenheimer graduated in 1992 with joint degrees from the Yale Law School (J.D.) and Tuft University's Fletcher School of Law and Diplomacy (M.A. in law and diplomacy). He received his bachelor's degree summa cum laude from Yale University in 1986